konomad editions No°006
↑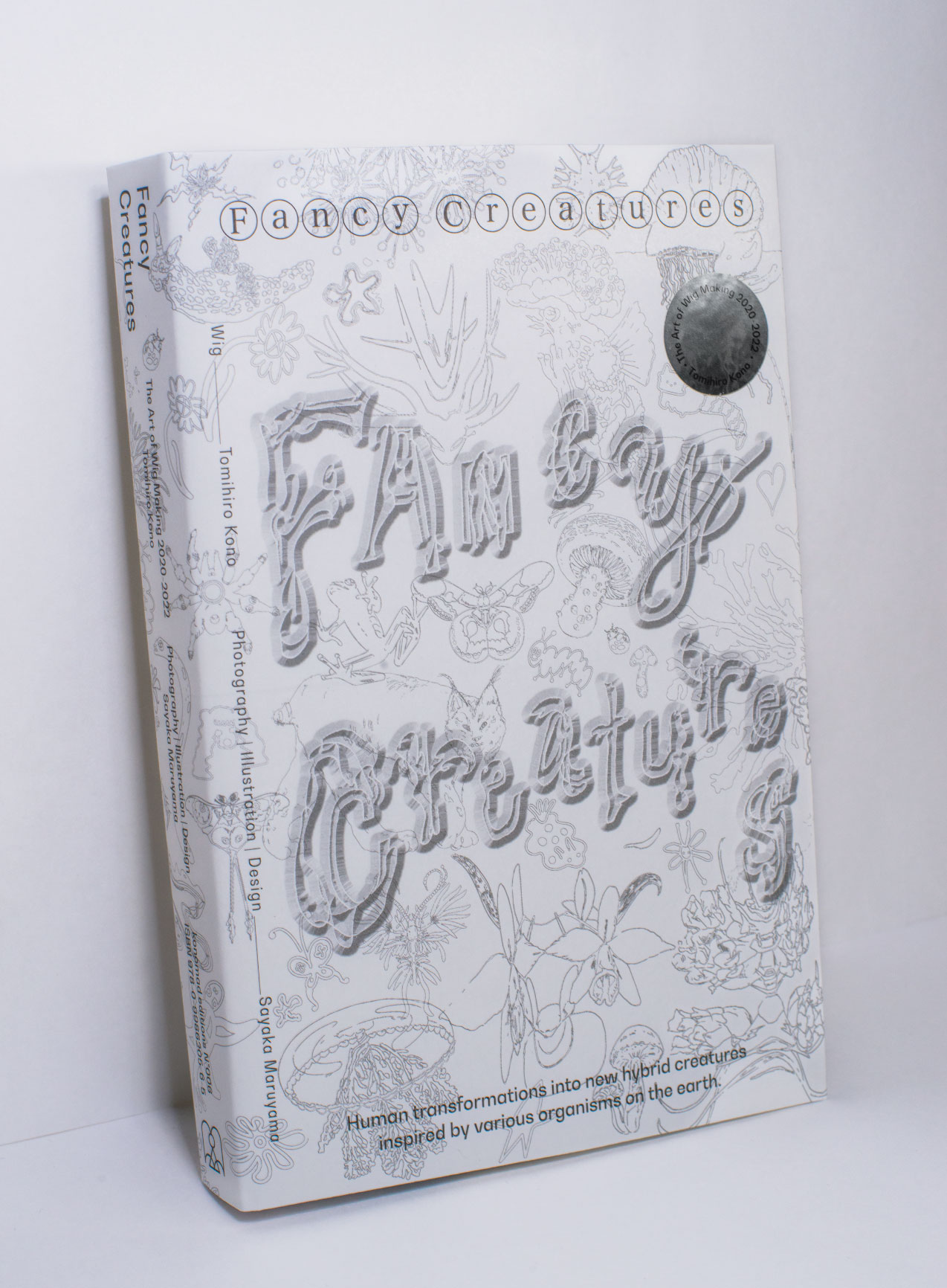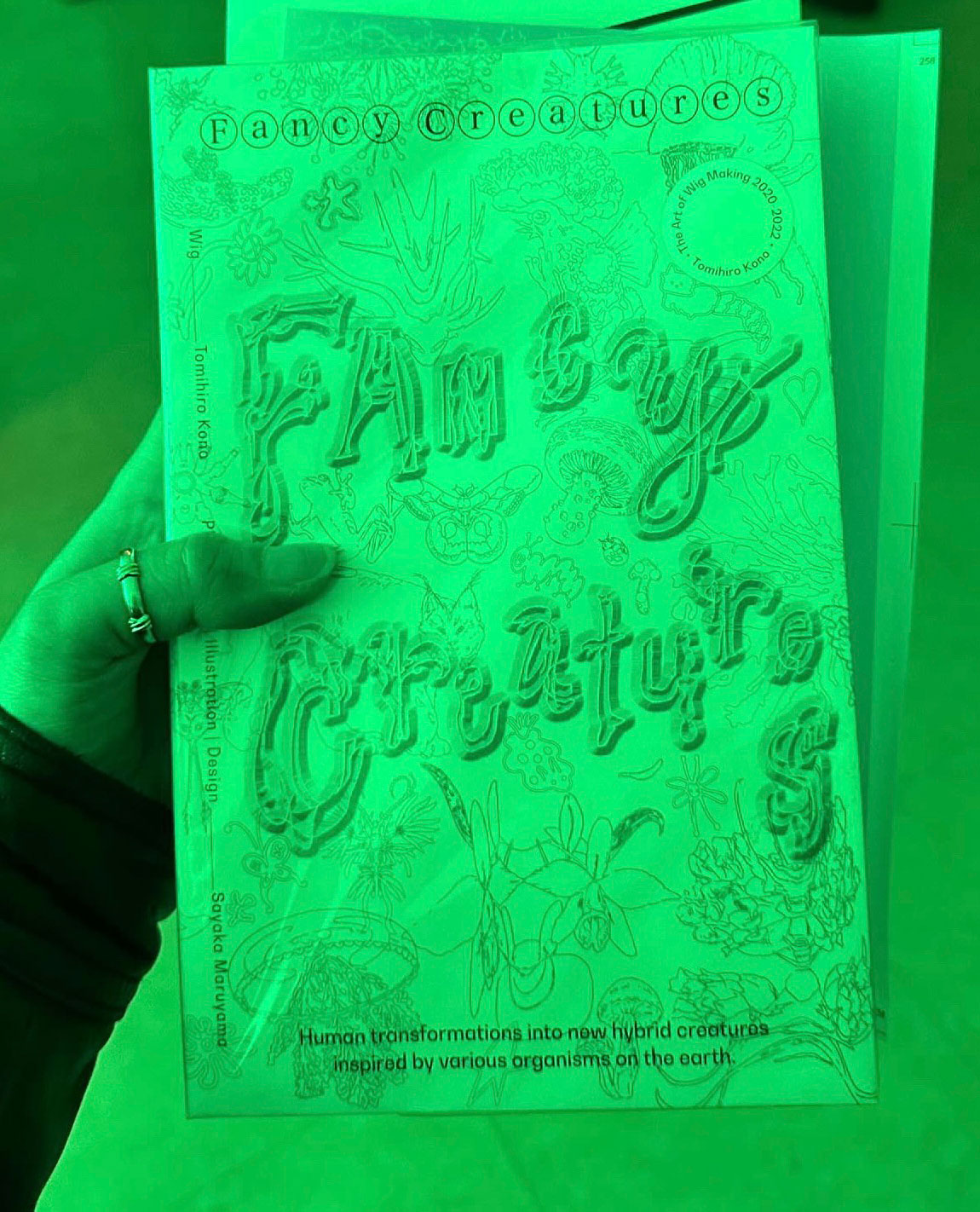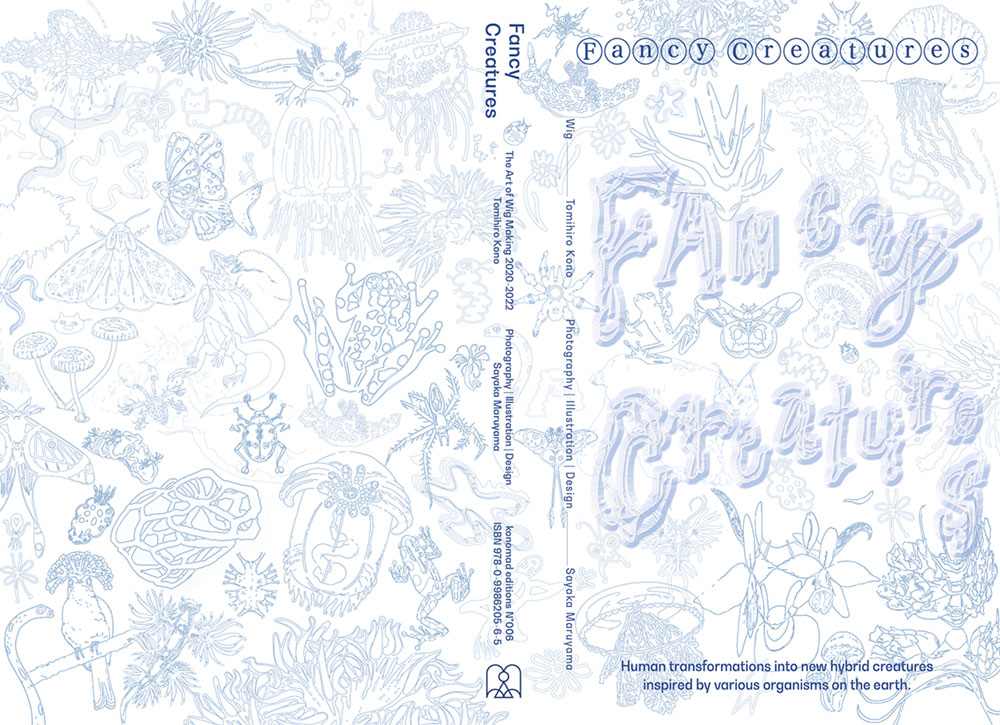 Tomihiro Kono:
Fancy Creatures - The Art of Wig Making 2020-2022
First Print of 300
International Distributor: IDEA BOOKS.nl
Wig: Tomihiro Kono
Photography| Illstration | Design: Sayaka Maruyama
Publisher: konomad editions
ISBN 9780998620565
Tomihiro Kono, who is best known for his unconventional artistic wigs, has long been exploring hair as his creative medium. All composed of real human hair, the Fancy Creatures presented in this book are his most recent inventive wig fseries, designed between 2020 and 2022.
Tomihiro Kono has always been attracted by the power of hair and the beauty of transformations.
We wish to push through the realm of personality transformations through changing hairstyles, and this time Tomihiro's avant-garde vision has upgraded humans to a whole new level of hybrids which we call 'Fancy Creatures' - imaginary hybrid creatures inspired by various micro-organisms on the Earth, ranging from deep sea creatures and furry moss, to endangered moths.
As an object, hair intrinsically retains a unique power and intimacy even when separated from our bodies, precisely because it was once part of us. Therein lies the magical materiality of the fancy creatures, a unique series of entities that holds an ineffable quality -- ancient but contemporary, familiar yet eery, desirable yet uncertain.
These Fancy Creatures take us on a flight of fancy, to discover a new dimension of unforeseen beauty. Instead of covering the entire head like the typical wig does, these Fancy Creatures can be positioned anywhere, at any angle on the head or even on the face, thus it can also be introduced as a new gadget of make-up.
For Tomihiro, it's through imagination and creation that fulfill our everlasting human desire to metamorphose, to transform our earthly bodies into something else. We hope you, the reader, will enjoy our vision of human's new metamorphosis.
366 p, Soft cover, ills Full color, 14.5cm x 22.5 cm, English
konomad editions No.006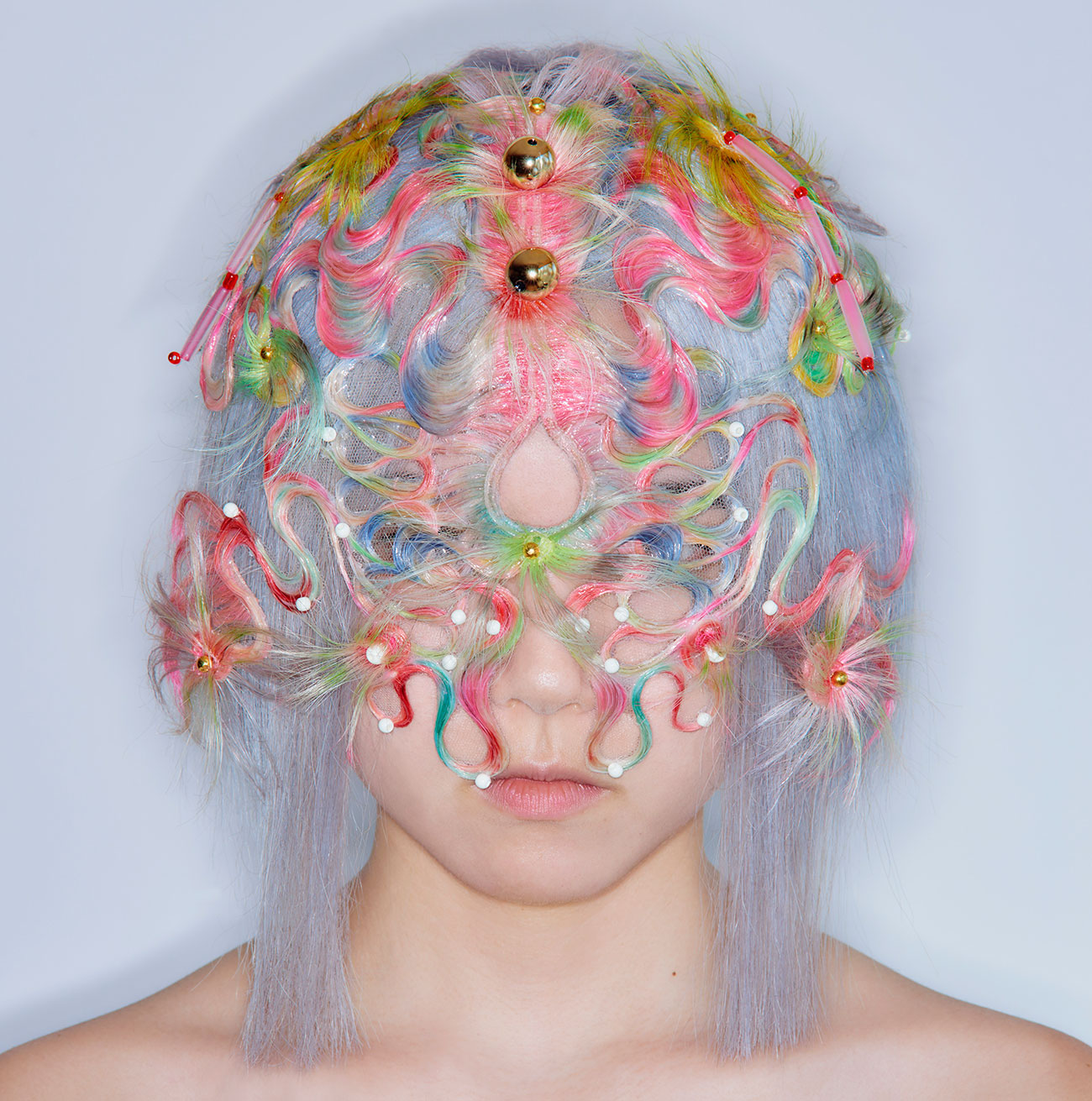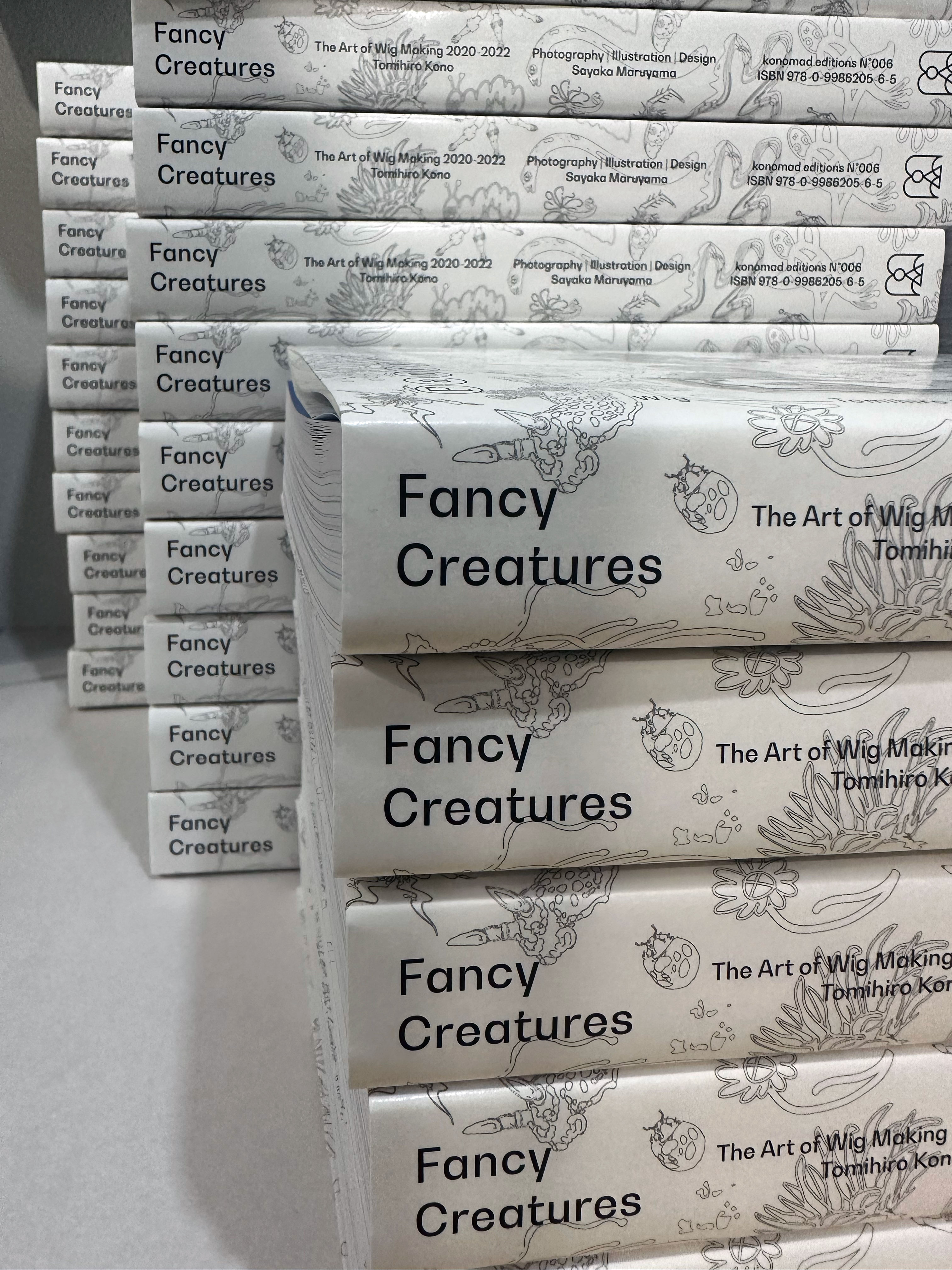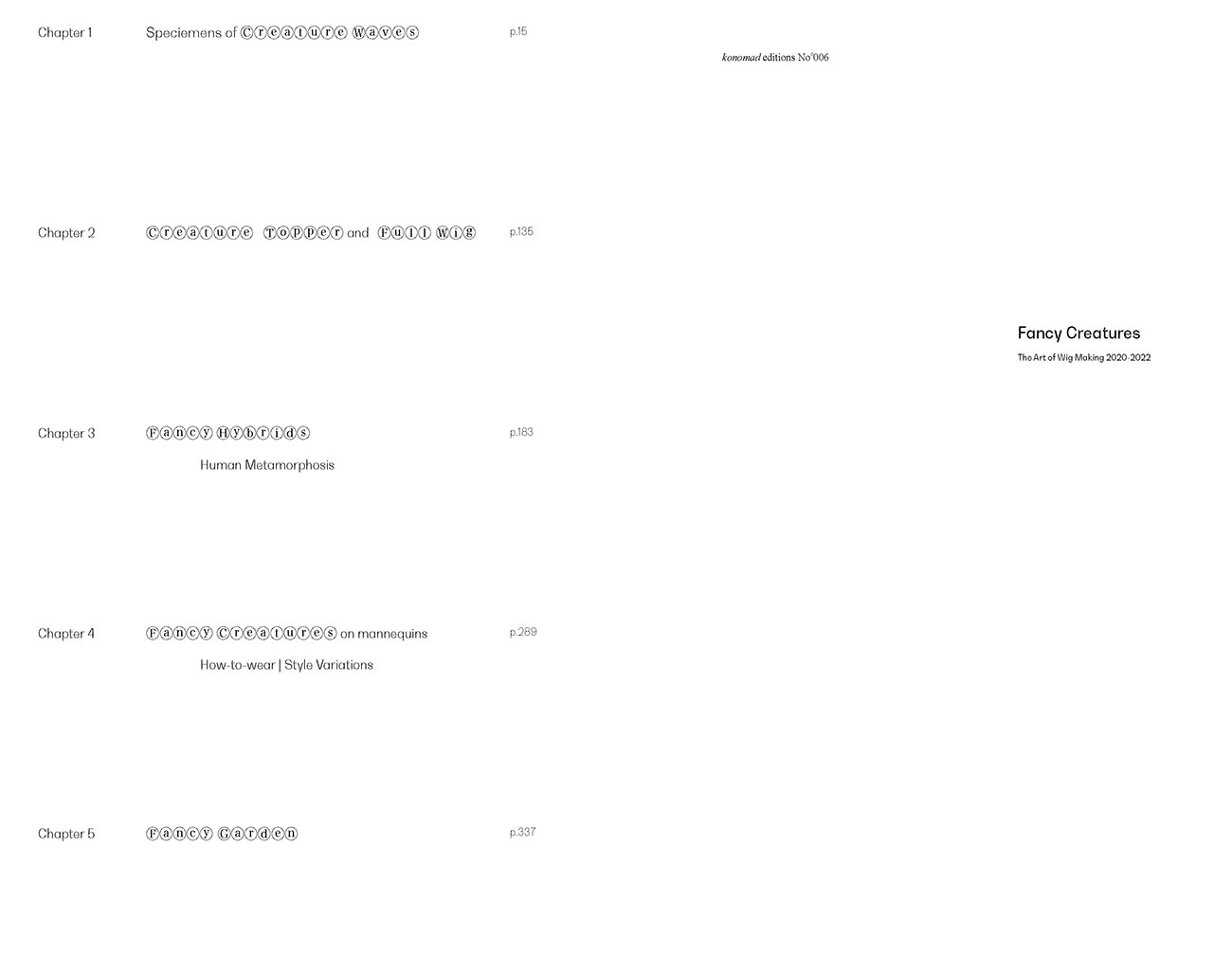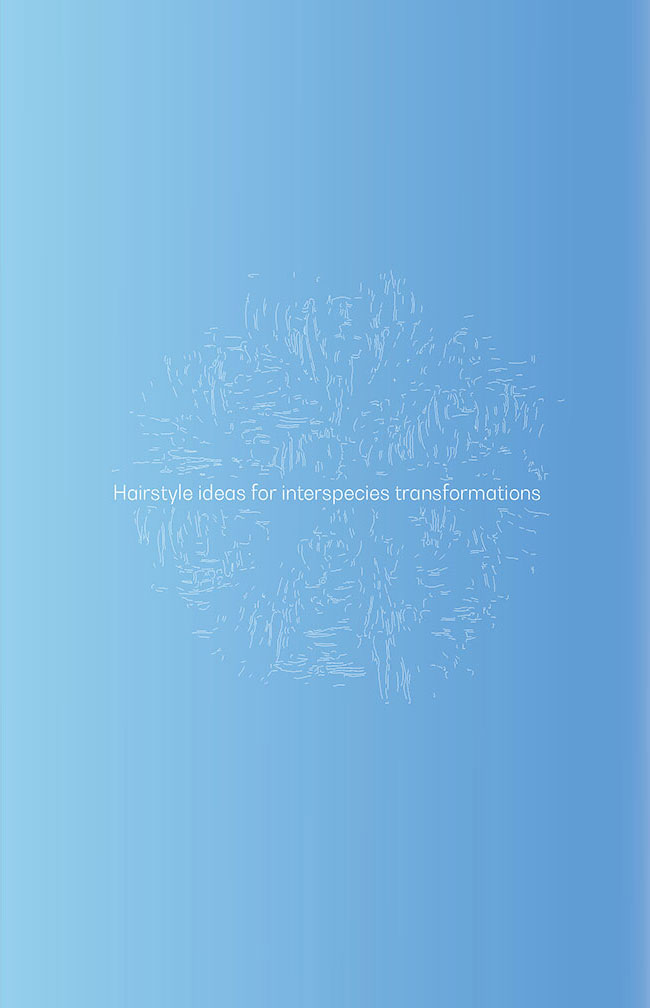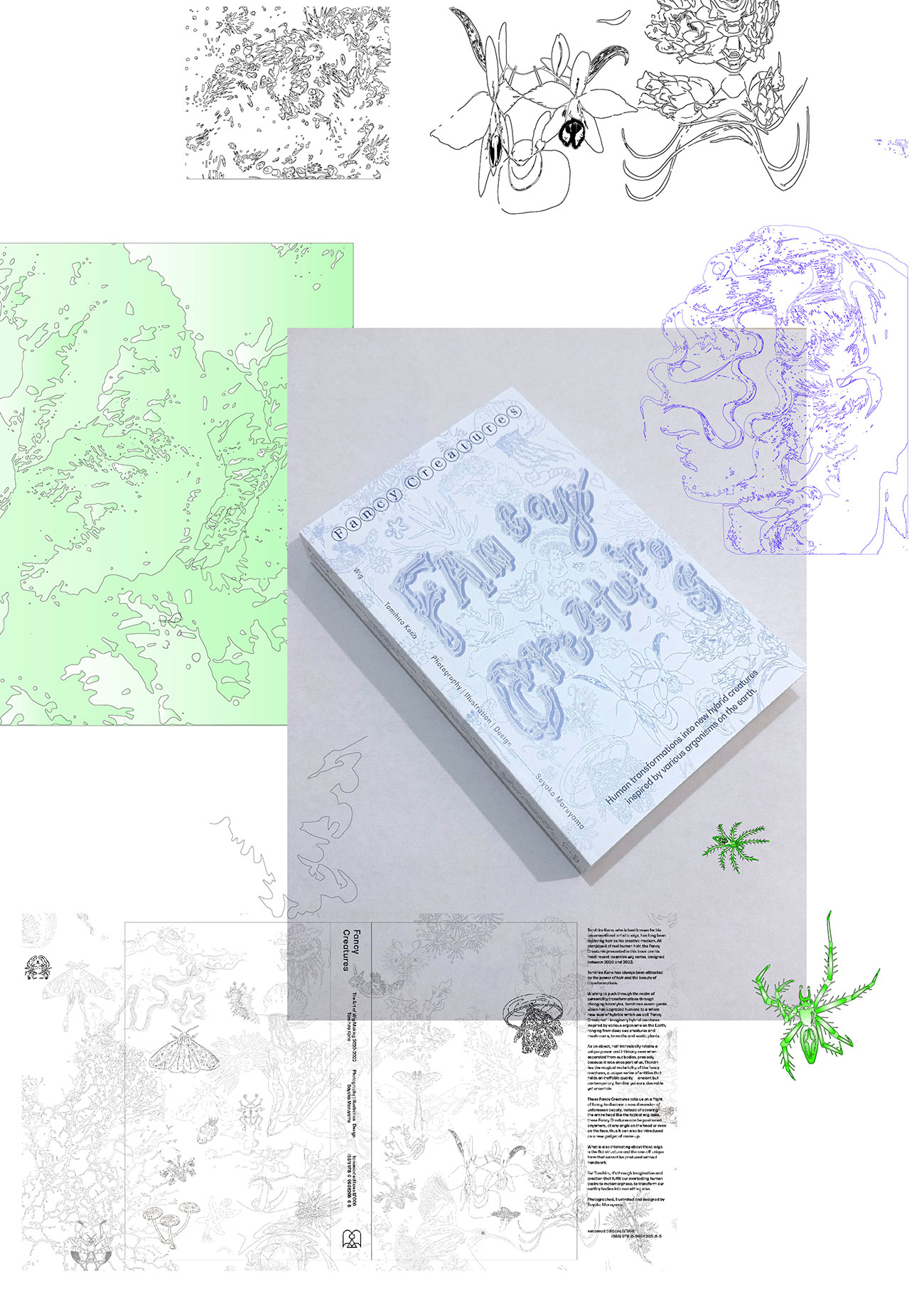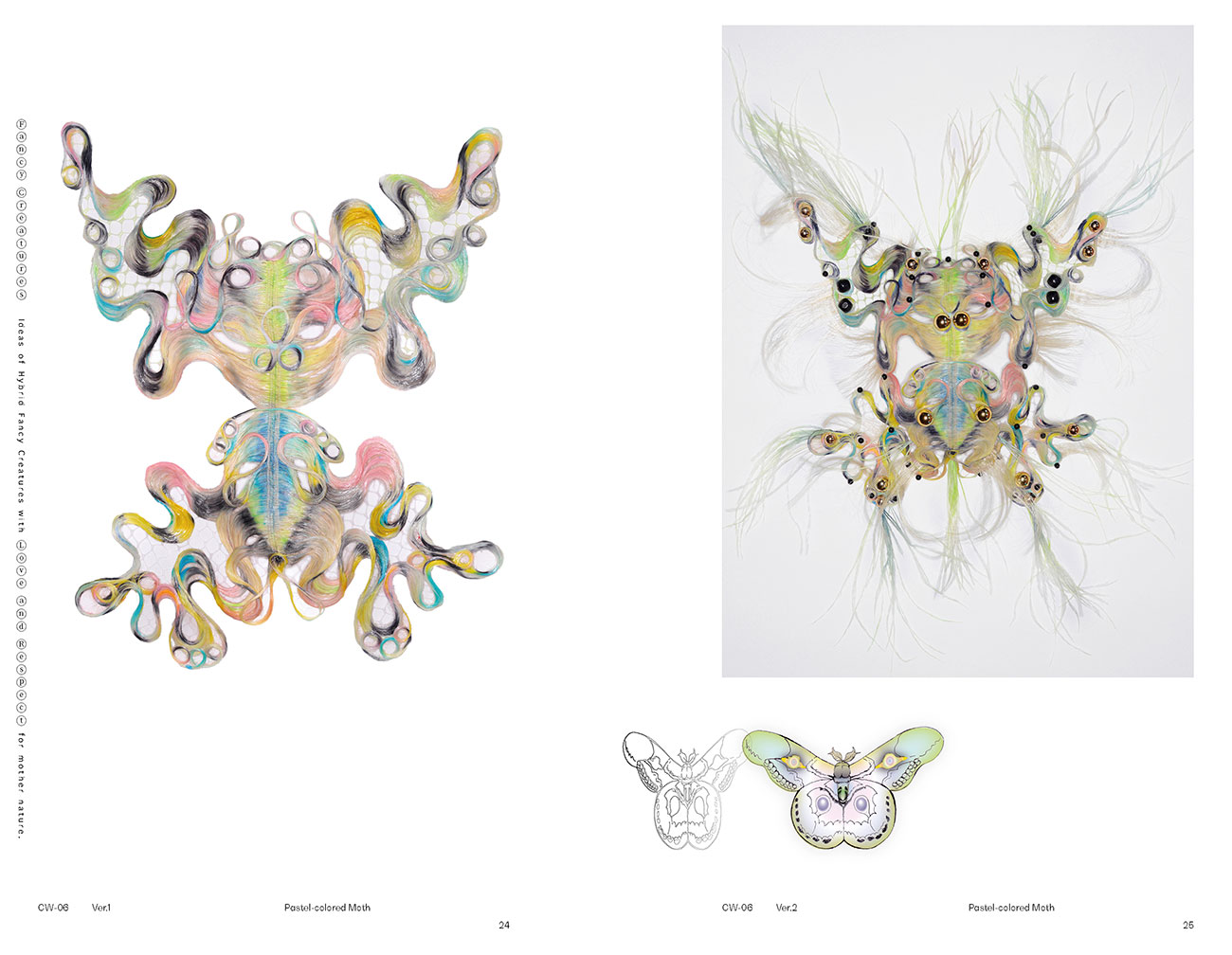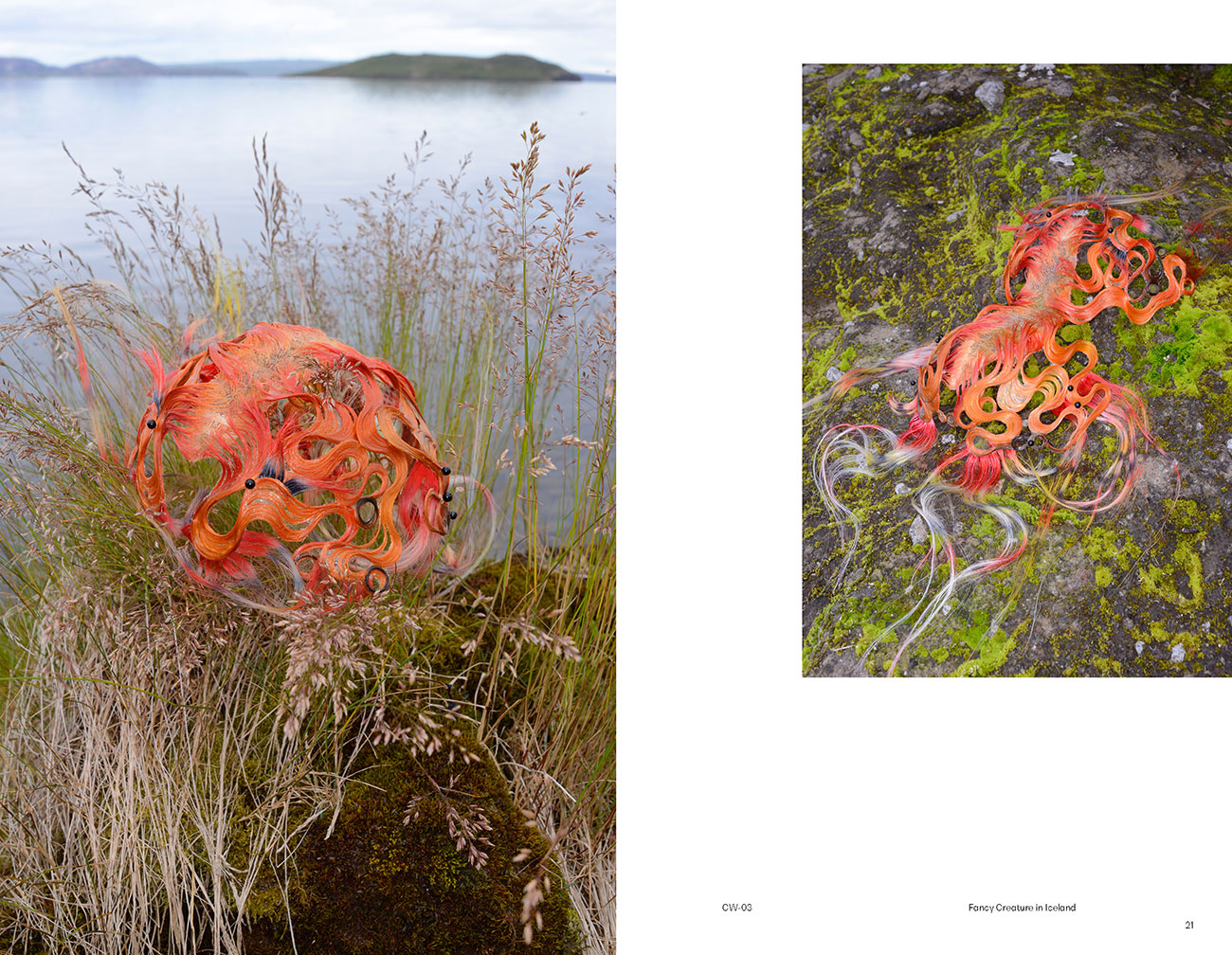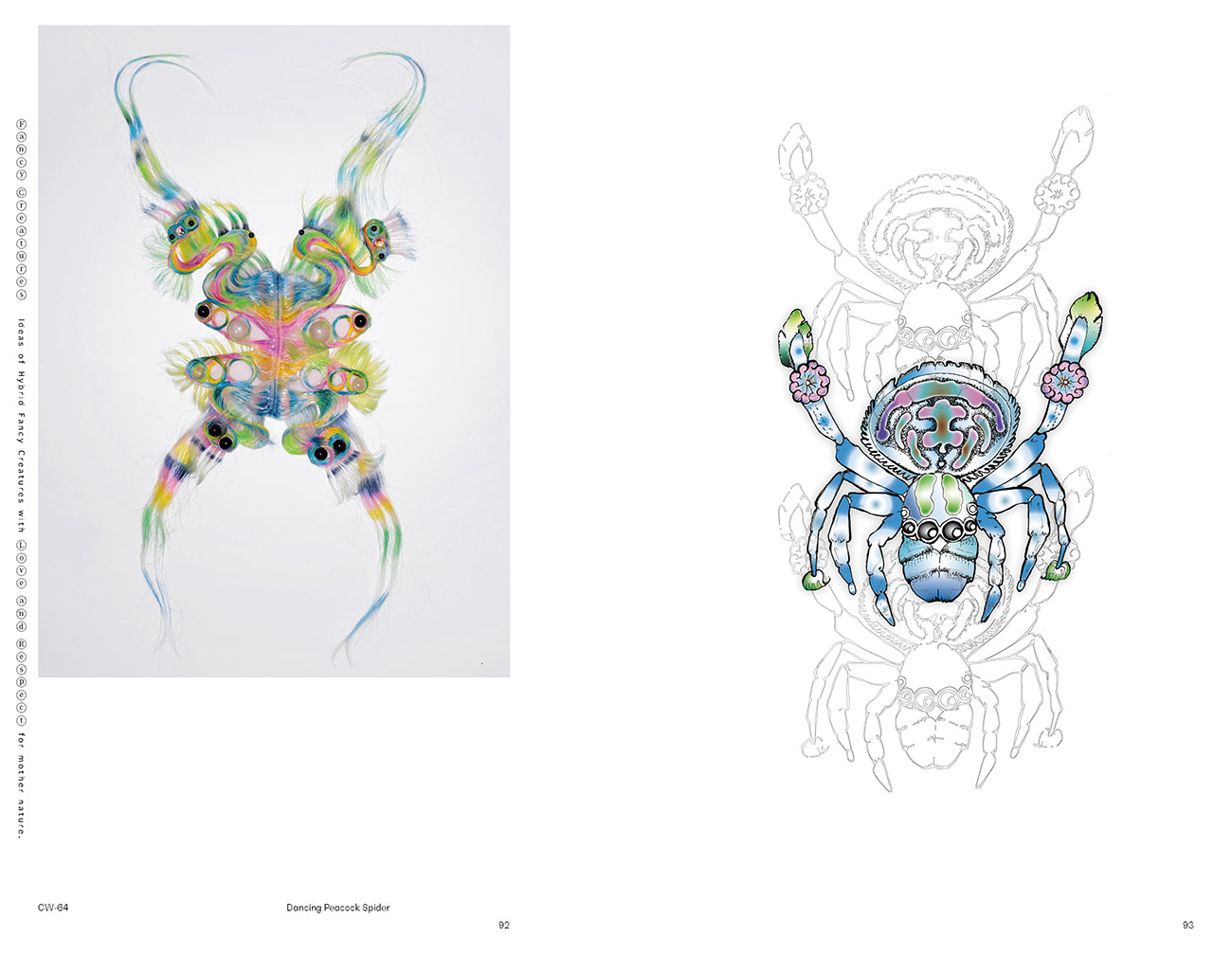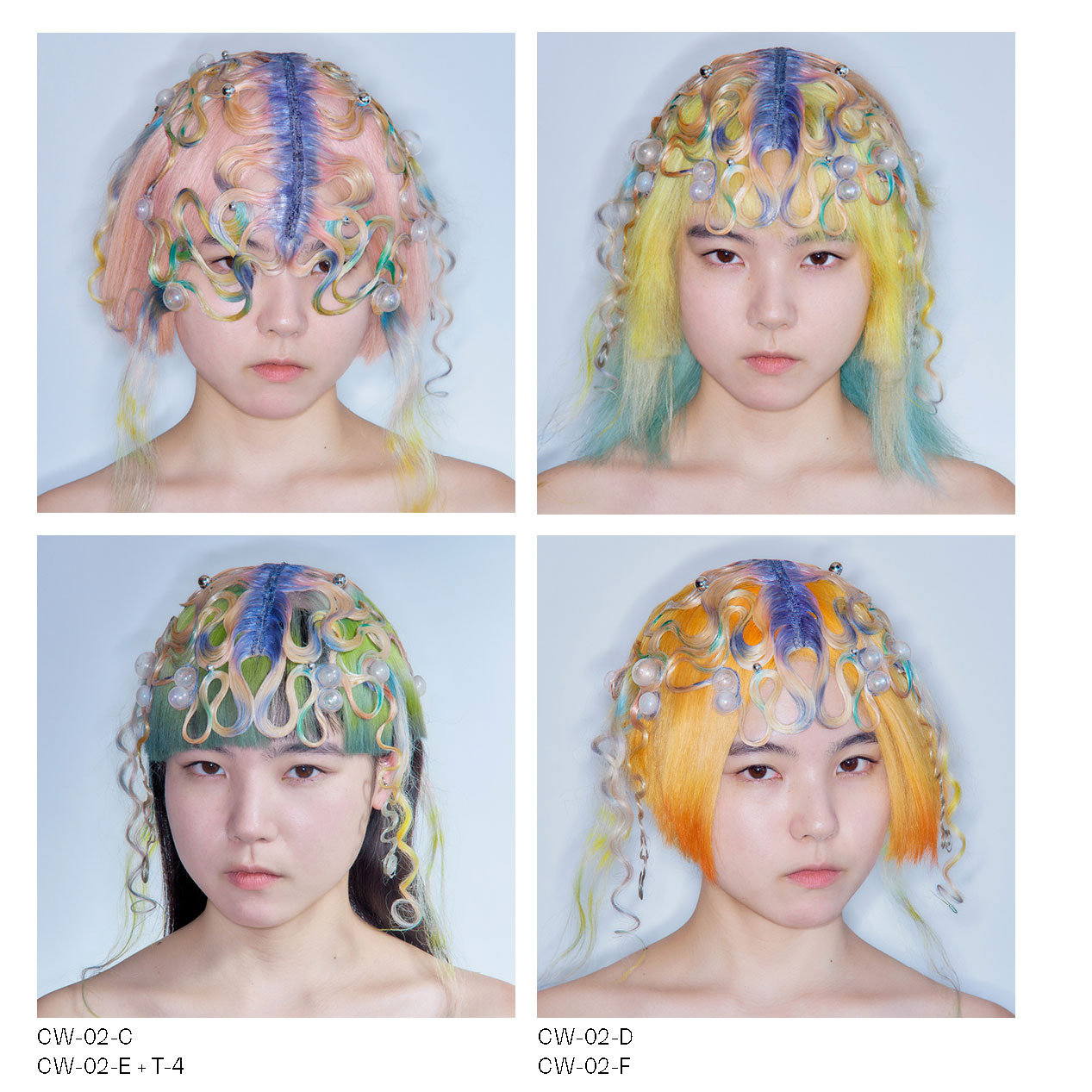 Dazed Beauty >


How Björk's wigmaker makes his otherworldly 'creatures'
Exploring humans' insatiable hunger for beauty and transformation, Tomihiro Kono's third photobook Fancy Creatures is a series of freaky nature wigs 8 February 2023
Text: India Espy-Jones
Metamorphosis is the keyword in Tomihiro Kono's new photobook, Fancy Creatures. The Japanese wigmaker has spent his career crafting beautiful, surreal hair creations and this latest collection is his most otherworldly yet, blurring the lines between species and dimensions as humans transform into hybrid creatures from the depths of nature. "The common underlying concept of our book is human's never-ending desire for beauty," says Kono. "I wanted to push the boundary of wig expression, [so it turns into more of an] interspecies transformation."
Photographed and illustrated by visual artist Sayaka Maruyama, Fancy Creatures documents Kono's collection of 'creature waves' wigs, which he designed between 2020-2022 (and includes Bjork's Fossora wig). For Kono, wigs have always been a form of expression, but here his pastel-infused aesthetic is combined with natural microorganisms, with references to furry moss to deep-sea creatures. The wigs themselves are moulded and set into "S"-shaped swirls, inspired by old Hollywood as well as the textures of the natural world. Japanese culture – including the live-action sci-fi and fantasy genre, Tokusatsu, and traditional stage make-up in Kabuki theatre, Kumadori – is also a motif throughout.
Fancy Creatures will launch with a pop-up art event during EastEast Tokyo on February 17, before the wigs are transported to Hong Kong for an installation exhibit at the experimental off-space, Current Plans, followed by a two-month-long photo exhibition of the portrait series from the book at the Eaton HK Hotel. Read on for an insight into Kono's relationship with make-up, his methodical wig-making process, and how his Björk album cover guided him into Surrealism.
Interviewed by Dazed Beauty
How would you describe the process of metamorphosis?
Tomihiro Kono: I think visual transformation comes first. We humans love to change fashion, hair and make-up and that's part of the process of self-transformation. In my previous project PERSONAS 111, I used the word "transformation" to describe the relationship between a wig and our identity. In this new book, Fancy Creatures, the keyword is "metamorphosis" because I wanted to push the boundary of wig expression [so it turns into more of an] interspecies transformation.
In the book, it shows how each wig looks different by how it is displayed. When it's placed flat, it looks like a specimen; when it's on the head, it looks like a hairstyle; when it's on the face it becomes a mask.
You developed an interest in orchids and created a Paludarium while making Fancy Creatures. What inspired that?
Tomihiro Kono: I've been researching many different types of orchids and I wanted to start growing them myself. I got inspired by them because it all looks different day by day. I enjoy taking care of those, that is my daily routine. It's a great hobby for meditating, and also to have my eyes rest.
What was it like working with Björk?
Tomihiro Kono: She told me her new album was gonna be earthy and muddy music, I wanted to make her look like a new earthy mushroom. The direction of my wig-making has shifted to a new creature-making [since working with her].
How do you start making your wigs?
Tomihiro Kono: It depends. For a full wig, I start making the lace foundation and then knot hair strands into the lace. Then I do the hair colour (sometimes before or after knotting), and then cut and style. For creature waves, I start by colouring hair extensions at first, then create wavy forms using gel. Then I add some decorations like beads and feathers. When it ends … probably when I found a character in the wig.
I definitely prefer to use human hair, as I can colour and curl it to make an ideal style and texture. To cut, colour and style wigs, I use the same equipment as hairdressers: hair colour, scissors, curling tongs and straightening irons.
It's as if your wigs have their own personalities. How would you describe their unifying traits?
Tomihiro Kono: Dynamic, wild and natural.
Do you have a favourite wig?
Tomihiro Kono: The blond mushroom wig I created for Björk's Fossora album cover. We had been talking over emails about what kind of colours she wanted for her new character, and she was initially into red and green. But finally what she selected was a blond wig, with a hint of pink and neon green. It was a big surprise for me but I'm happy that she found her ideal character.
You began your career as a hairdresser over 20 years ago. For Fancy Creatures, what is a new technique you learned?
Tomihiro Kono: Keep doing what you believe in. Make sure the wig is not too perfect.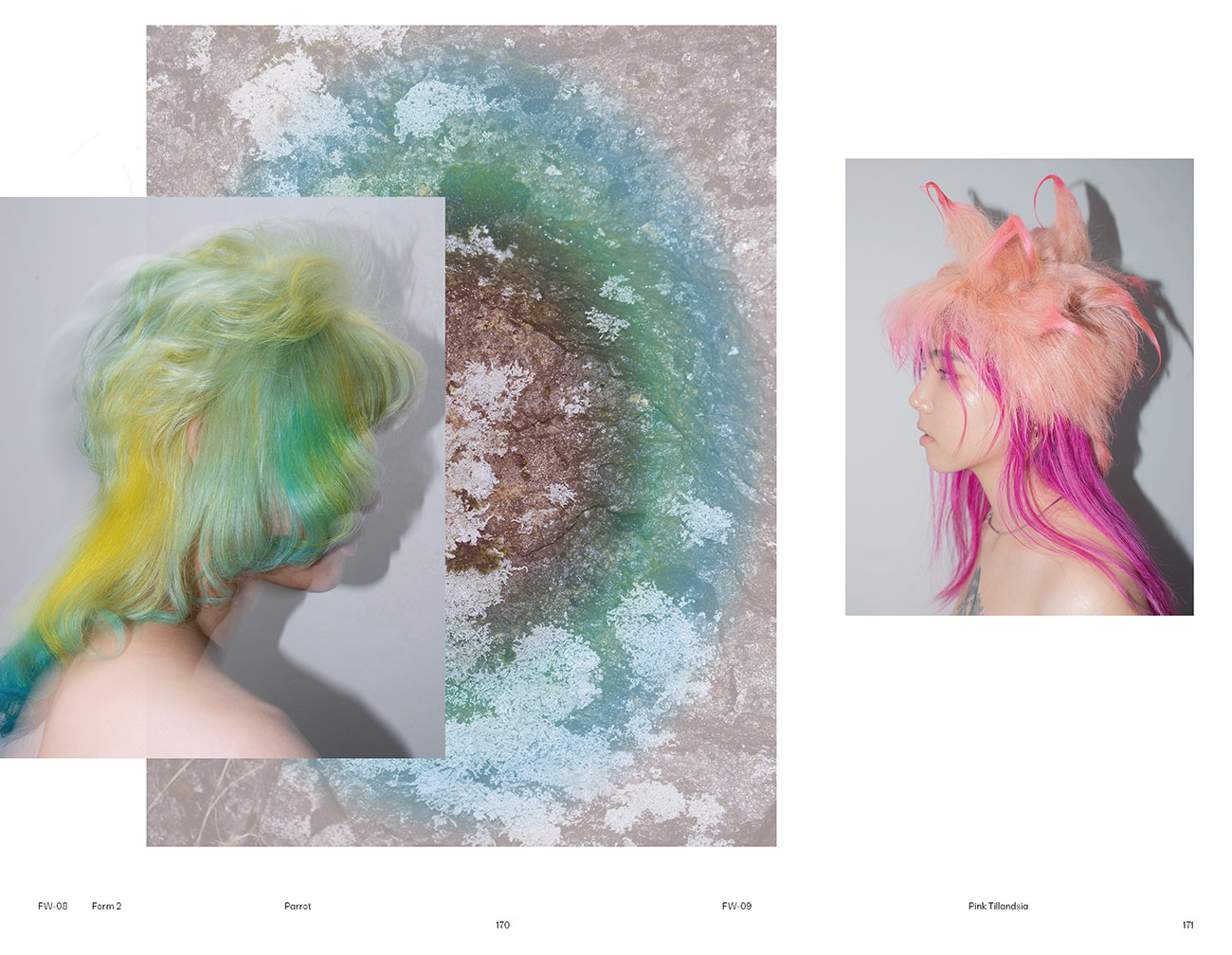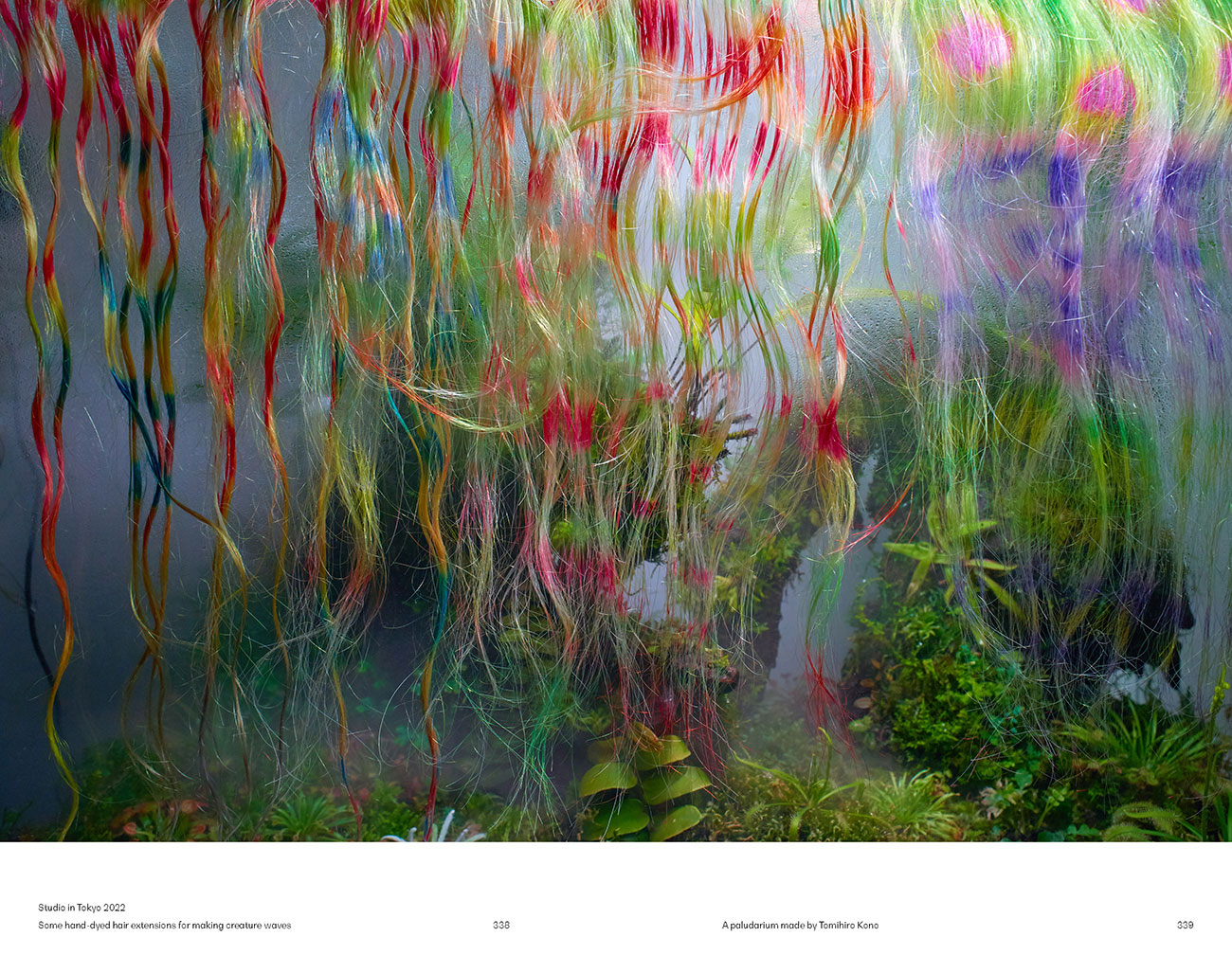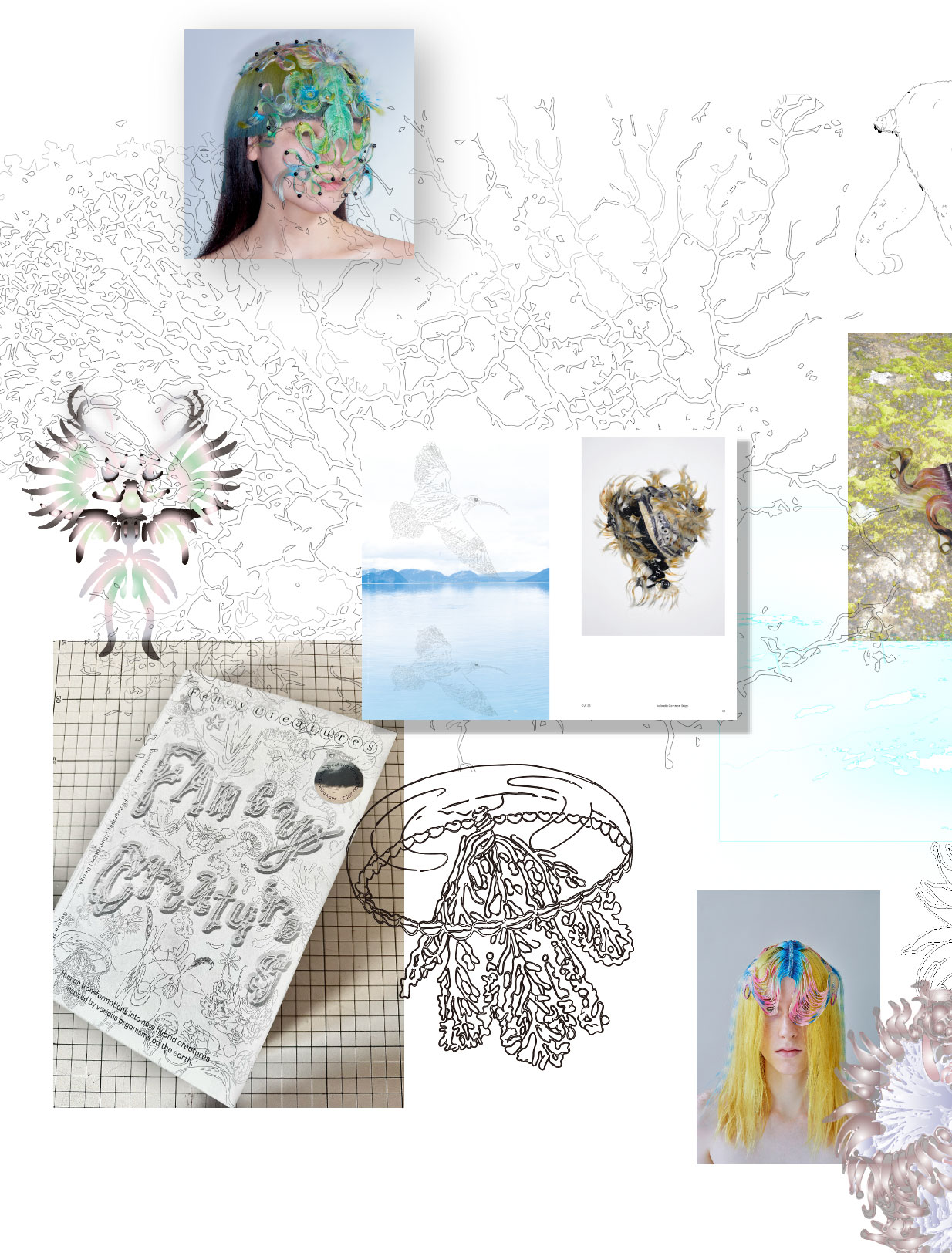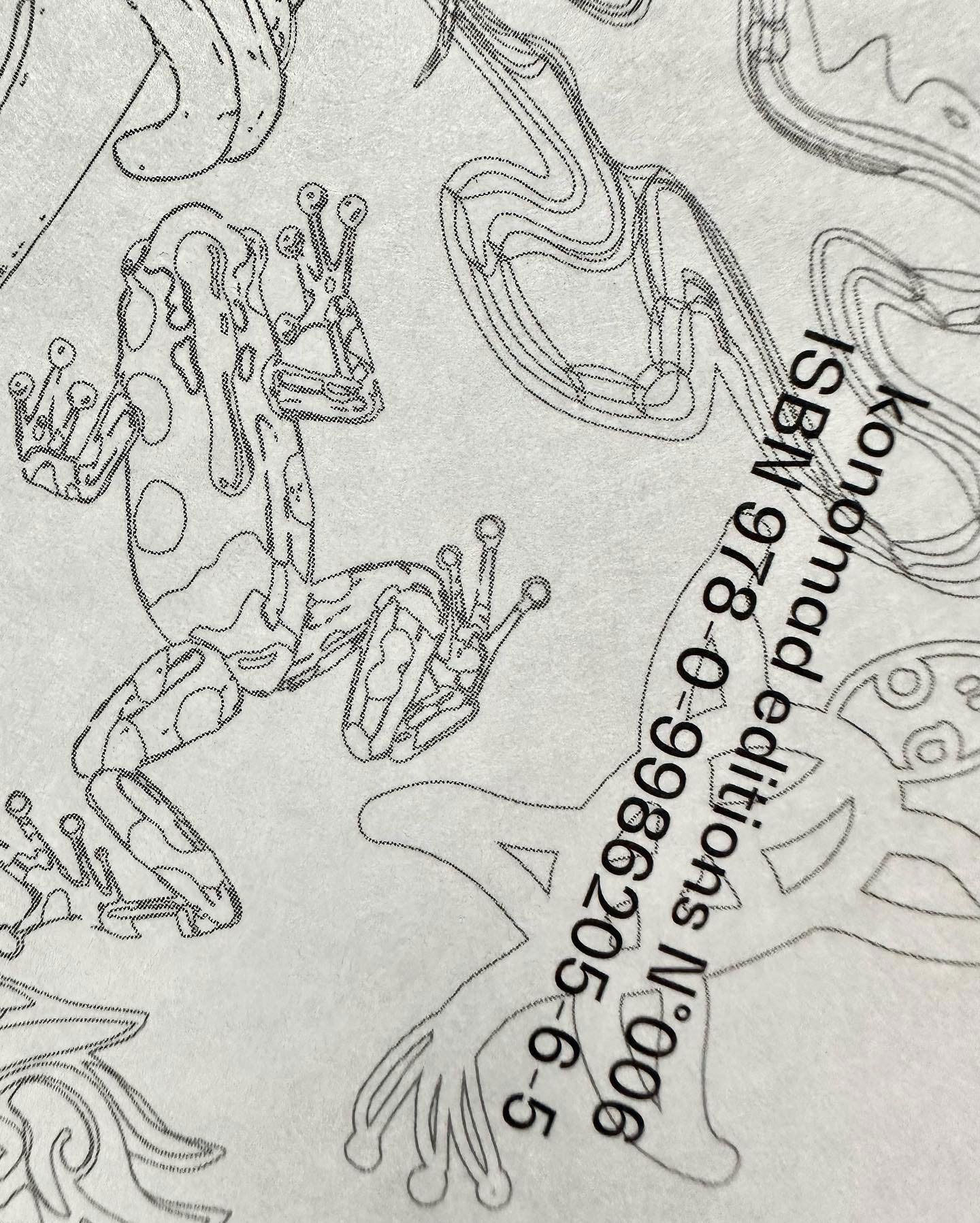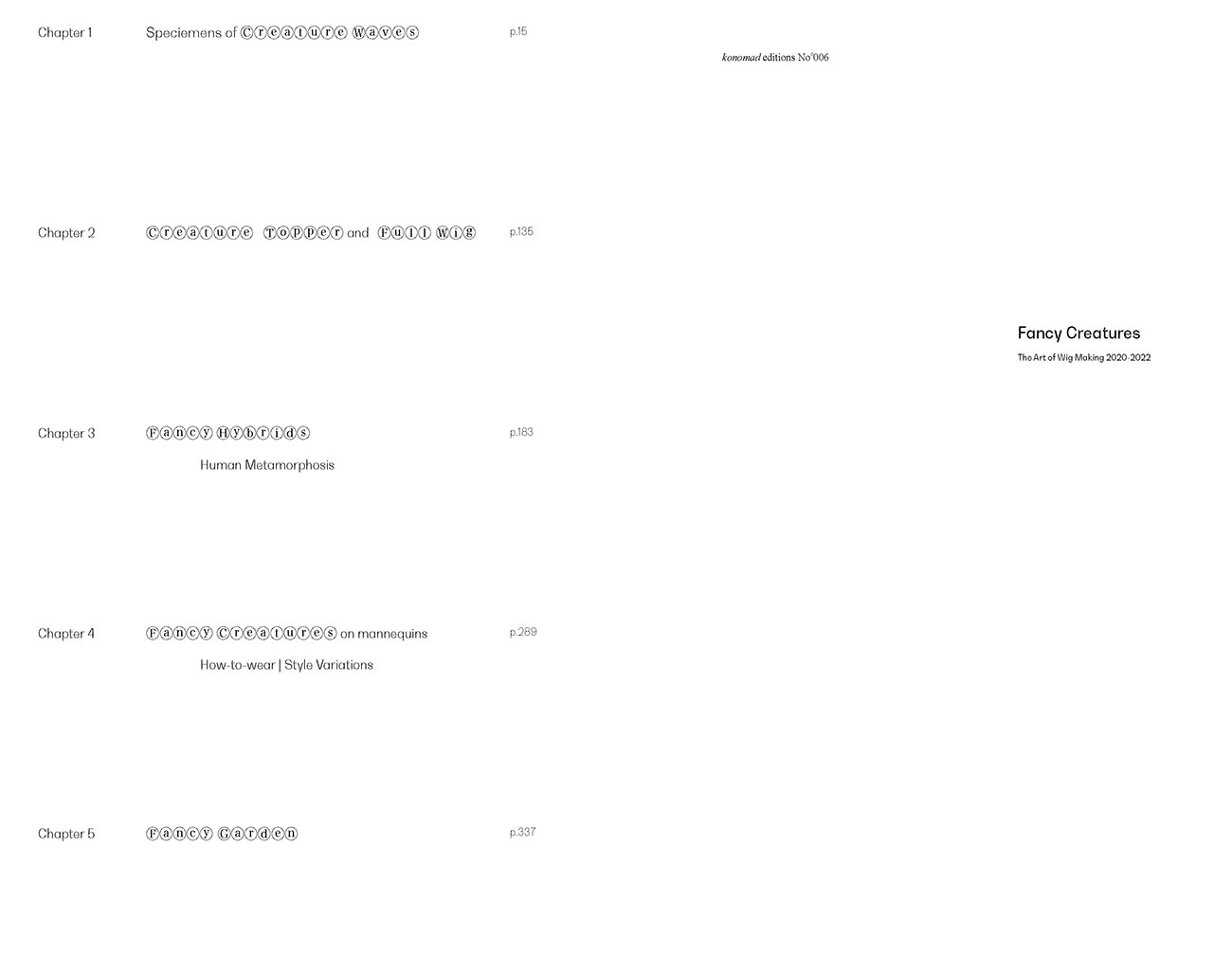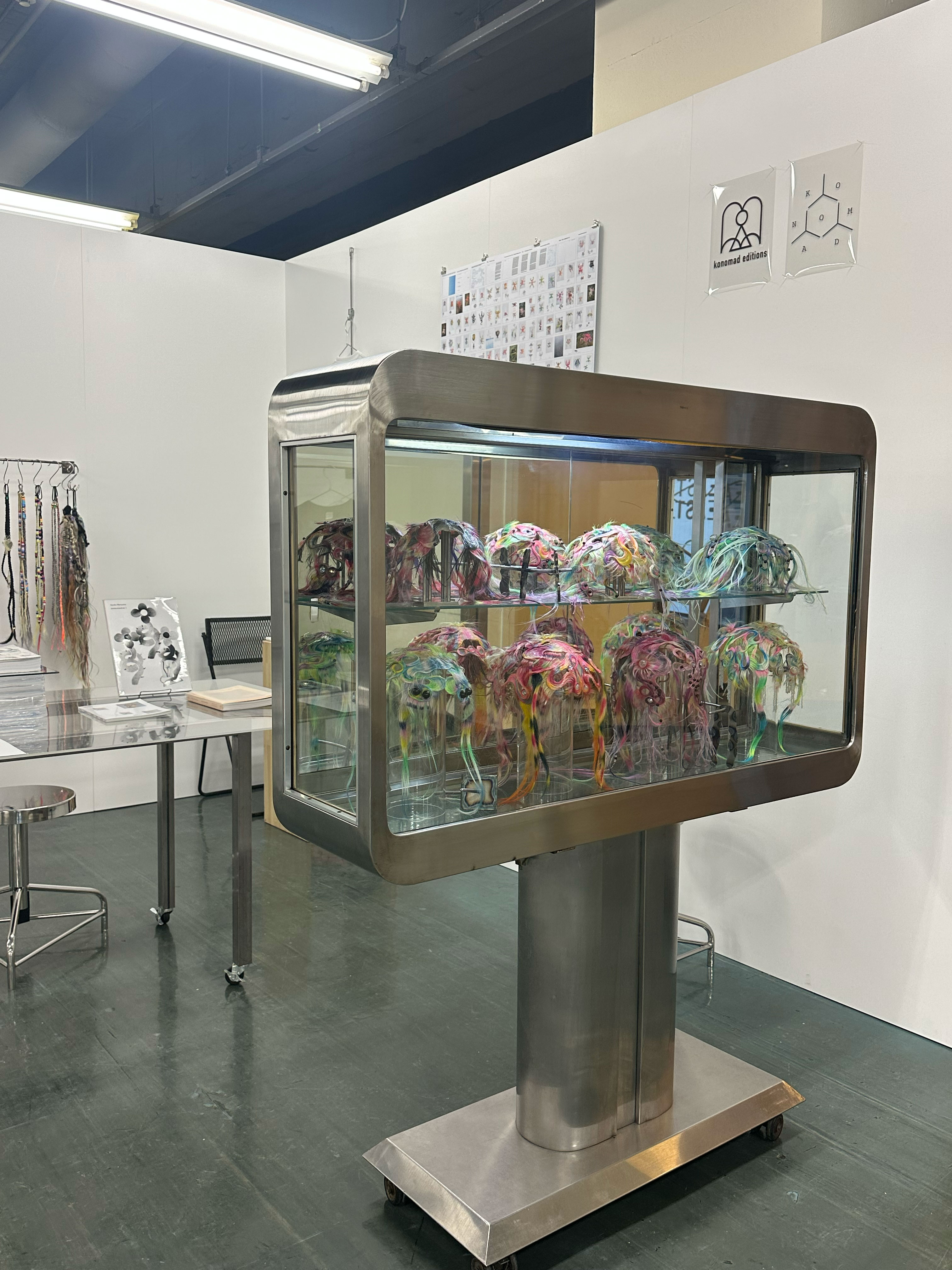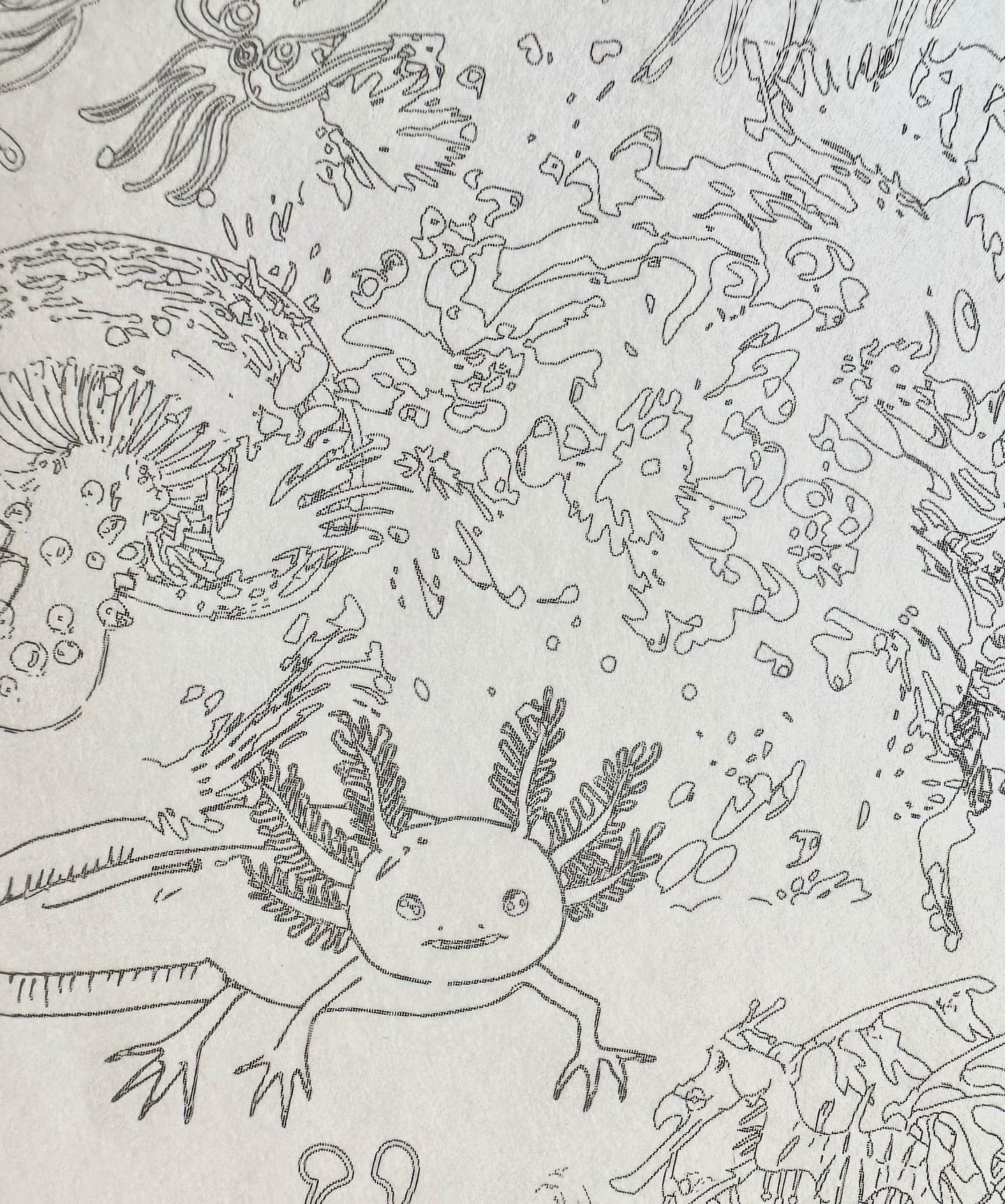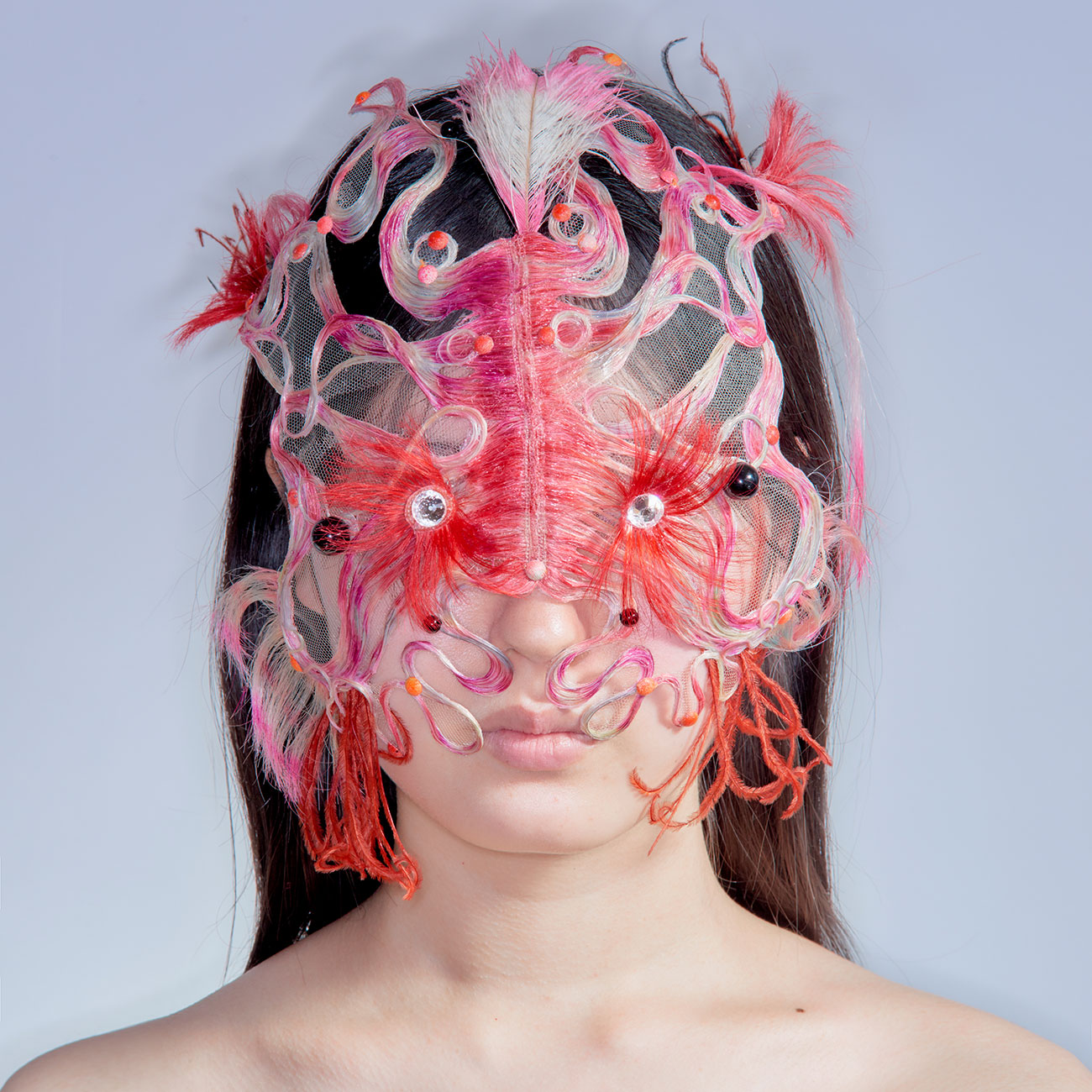 Wallpaper>


Japanese hair artist Tomihiro Kono debuts new book of fanciful wigs
Hair artist Tomihiro Kono debuts his most surreal wigs yet in the new book, 'Fancy Creatures' 7 February 2023
Text: Mary Cleary
Back in 2020, Japanese hair artist Tomihiro Kono brought a bit of colour to the bleak days of the Covid lockdowns with the launch of his book Personas 111.
The slim volume contained dozens of images of photographer Cameron Lee Phan wearing an array of Kono's cotton-candy-coloured wigs – baby pink bobs, lilac braids, Veronica Lake-platinum waves and seafoam green corkscrew curls – with each transmuting Lee Phan into a distinctly new character. The end result was a playful testimony to the mutability of our identities, showcasing how they can be radically transformed in the time it takes to put on a wig.
In his latest book, Fancy Creatures, Kono once again explores the transformative power of hair, but this time with a range of wigs that bring his pastel-infused, surreal aesthetic to new extremes. It picks up where Personas 111 left off, documenting Kono's creations from 2020 to 2022, when he started constructing his 'creature waves' wigs, imaginary hybrid creations inspired by various microorganisms on Earth, ranging from deep-sea animals to furry moss and endangered moths.
he basis for each of these wigs is the 'finger wave', a popular hairstyle from the 1920s and 1930s that called for hair to be set into a soft 'S' shape. That style, synonymous with Old Hollywood glamour, is then mashed together with organic forms that nod to insect antennae, tropical flowers, tree-frog markings, and reptilian scales, as well as various other cultural references that have long inspired Kono, including Kabuki theatre, anime, and Tokusatsu, a type of Japanese live-action sci-fi with elaborately costumed characters.
As writer Christopher Schreck notes in the book's introduction; 'when viewed on their own, the "creature waves" resemble preserved specimens in a biologist's lab, splayed for display or dissection. Once set upon a model's head, however, they come alive in a kind of mutual merging, with both wig and model made stranger and newly animated through their interplay.'