NEW E

DITI

ON ☟coming out in April 12 2019
memor
andom 0 by Sayaka Ma

ruyama
Book Launch April 12, 19:00-21:00 @ (PLACE) by method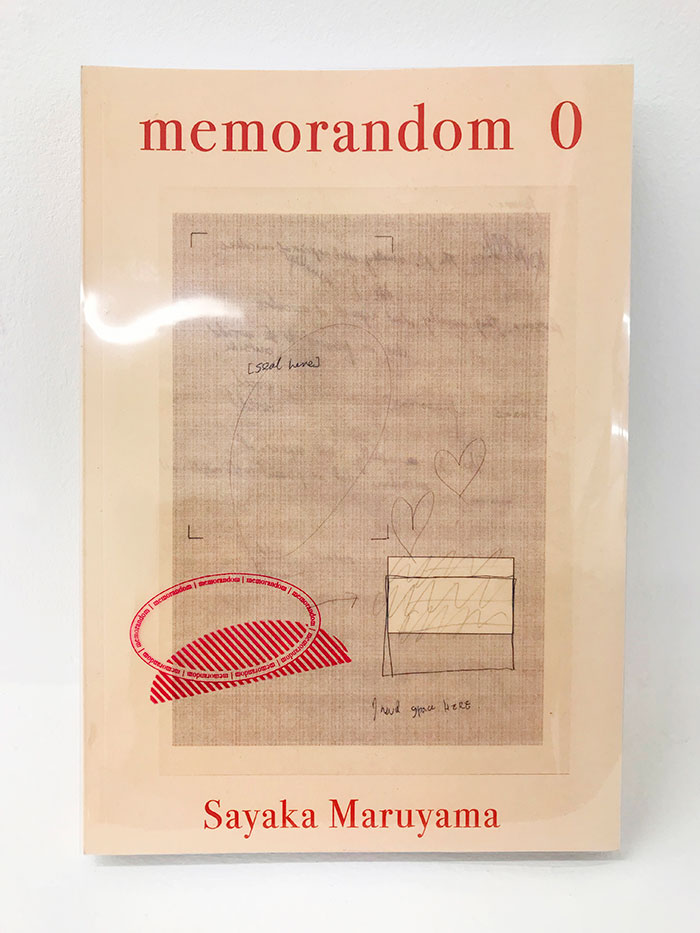 Sayaka Maruyama
memorandom 0
Artistic practice 2011-2019
New York-based artist Sayaka Maruyama (b.1983) is a multi-disciplinary artist who translates her notions of beauty into photography, drawings, books, and short films.
"Life as a whole is a collective box of emotional experiences. "
"memorandom" records the personal practices of Sayaka Maruyama between 2011-2019, includ- ing photography, drawings, paintings, collages, objects and extracted images from her short films. The ideas and thoughts randomly passing through her mind are visualized in various forms of expres- sion, then translated into the form of a book by the artist herself.
Maruyama feels it is more natural for her to in- stinctively translate her vision into images rather than into words.
Rather than being completed and finished, these images retain all the beauty of the non-finito, they are still in the process of becoming and escape the trap of being categorized in a specific form.
"I am simply interested in how we perceive beauty in our own perspective, react to it and make visible so that we can share with others."
How each person perceives the world can not always be explained logically. Maruyama gives importance to the act of recording indefinable emotions and moments.
By binding her random memorandoms, these collected images, drawings and fragments of text weave multiple layered dialogues that result in a personal, poetic and tangible portrait of the artist.
"I wonder if each reader will get a different feeling and interpretation of my works while leafing through this volume and in return how my work will be influenced by them."
Coming Soon☟
The Art of Wig Making Vol.2 by Tomihiro Kono in Tokyo
4.15 - 4.27 @ CIRCLE, TOKYO
1-3-1 #14 Caminito Shibuya-ku Tokyo 150-0011
www.wearemethod.com
☟Tomihiro Kono's wigs by VOGUE ITALIA
September 14, 2018 6:30 AM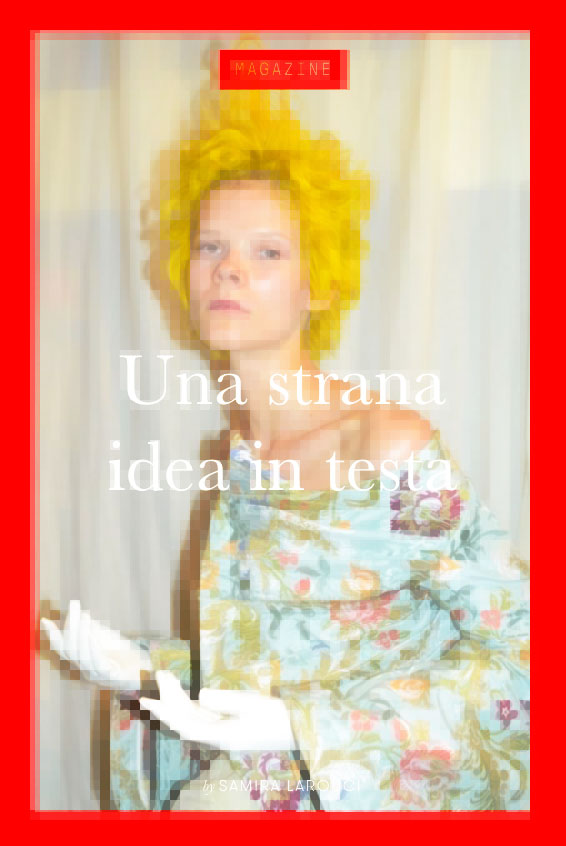 Creating a good wig is an art form unto itself – and if there's one contemporary wig maker that's modernising and reshaping the practice, it's Tomihiro Kono.
Born and raised in Japan, Kono is the go-to guy for fashion houses like Junya Watanabe and Comme des Garçons, where he created sculptural headpieces from 2014 to 2016 for both mens and womenswear. "It was almost like breaking boundaries of my hair styling," says Kono, "I had a deep think about how head design can participate in a fashion show in an effective and inspiring way. Shows are fundamentally for clothes, but making a total character from head to toe is very important". 
Despite his fashion world co-signs, Kono's intricate wig making skills weren't carved out in a fashion school. Instead, he chose to learn the technical art of Geisha hairstyling from a Japanese master in Uguisudani, Tokyo, an experience he recounts excitedly: "Watching the process of their skilful work is very inspiring. Not only did I learn his techniques, but also the importance and the possibility of learning by oneself. He was a self-taught master and that fact impressed me so much".
Last month, Kono took a foray in to the art world by opening an immersive exhibition of his creations on Paris's Rue du Château d'Eau in the 10th arrondissement. Entitled Wigs, the exhibition showcased a selection of his most-valued pieces from towering Rococo-esque wigs in deep pastels to neon elfin crops. 
As well as trying to find a new location for his travelling exhibition, it seems that Kono knows exactly where he'd like to take his creations next.
☟Thank you for coming to our exhibition 'Wigs (Perruques) by Tomihiro Kono' June 22,23,24 @thecommunityparis
VOGUE ITALIA
DAZED & CONFUSED
OFFICE MAGAZINE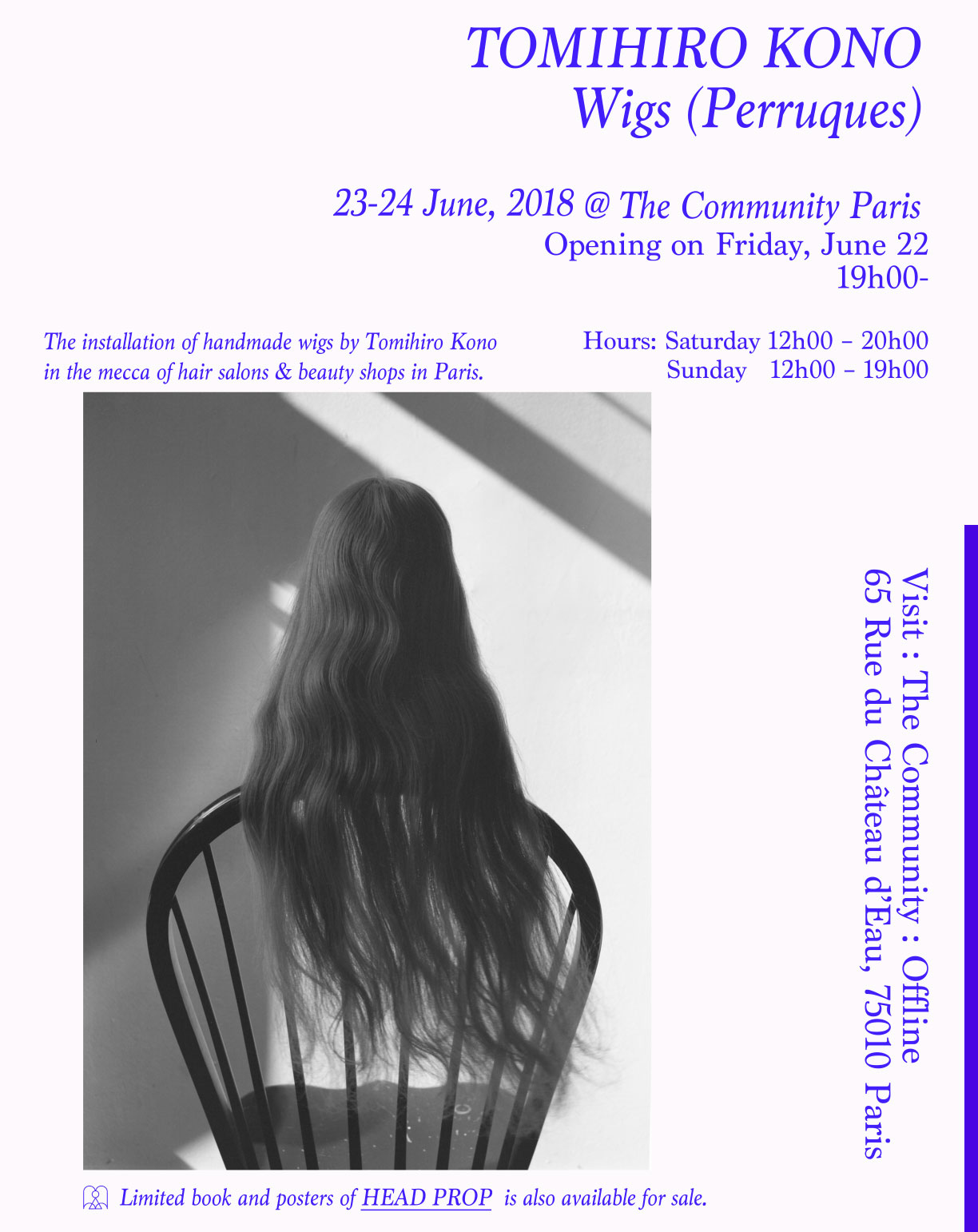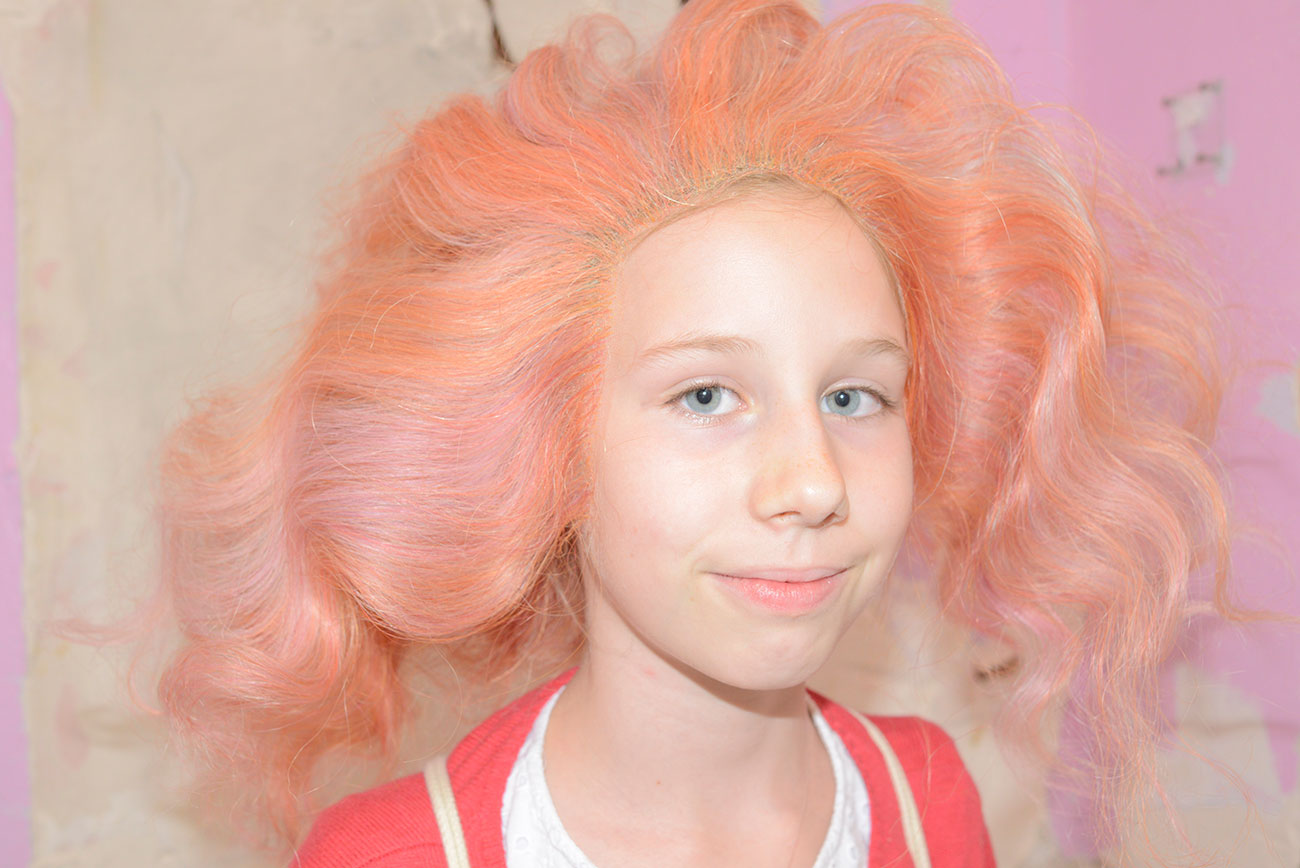 >more about this pop-up
☟
☟
HEAD PROP by Tomihiro Kono
interview in Pan and the Dream magazine
beauty issue #02
> go to SHOP
| | |
| --- | --- |
| | last copy of limited editions available |
---
Stockists:
Community Paris
65 Rue du Château d'Eau, 75010 Paris
Librarie VOLUME
47 rue Notre-Dame de Nazareth, Paris
Now available in Mcnally Jackson Books >76 N 4th St, Brooklyn, NY 11249
in Mcnally Jackson Books >Prince St. Manhattan
in Spoonbill & Sugartown, Williamsburg Brooklyn
---
in Printed Matter, 231 11th Ave. Manhattan
---
Also available in Tokyo >
POST
On Sundays
---
| | |
| --- | --- |
| | |
LIGHT IS CALLING
By NEON O'CLOCK WORKS
Oct29 - Nov 30 2017
HACO
31 Grand St Brooklyn NY 11249
Wed - Sun 14:00-19:00
Mon - Tue Closed
Free Entrance
NEON O'CLOCK WORKS is a creative unit of
SAYAKA MARUYAMA and TOMIHIRO KONO.
Driven by innate spirituality, inner necessity, and often by impulsive reaction the world they live in,
NEON O'CLOCK WORKS explores the mediums of photography, short films, drawings, installations and books.
'Light is Calling' is their first installation exhibition in New York showing their earlier box collages produced in 2006 in Japan, as well as screenings of some experimental short films produced in Tokyo and in London between 2006-2012. These box collages were originally made to symbolize the energy of human desires in the form of box-shaped coffins, - more precisely, female desire for beauty inspired by the history of corsets. Dying for their perfect body of beauty, women suffer from the pain by the act of distorting their body.
Each boxes that are put up on the wall all connected with electric cables has a tiny light bulb and are light-up in the evening time that creates somewhat sacred and solemn atmosphere. The pure energy of their creativity filled in each box that has been slept for nearly 10 years in the artist's closet, is now time to awake, and to be unveiled. 

For NEON O'CLOCK WORKS, working as a unit means to them as what Carl Jung said :
"The meeting of two personalities is like the contact of two chemical substances:
If there is any reaction, both are transformed."
They also collaborate with other unique artists, performers from all over the world.
Sayaka Maruyama individually work as a photographer / filmmaker and
Tomihiro Kono is well-known for his handmade wigs and distinctive head props
he creates for artists / musicians / performing artists.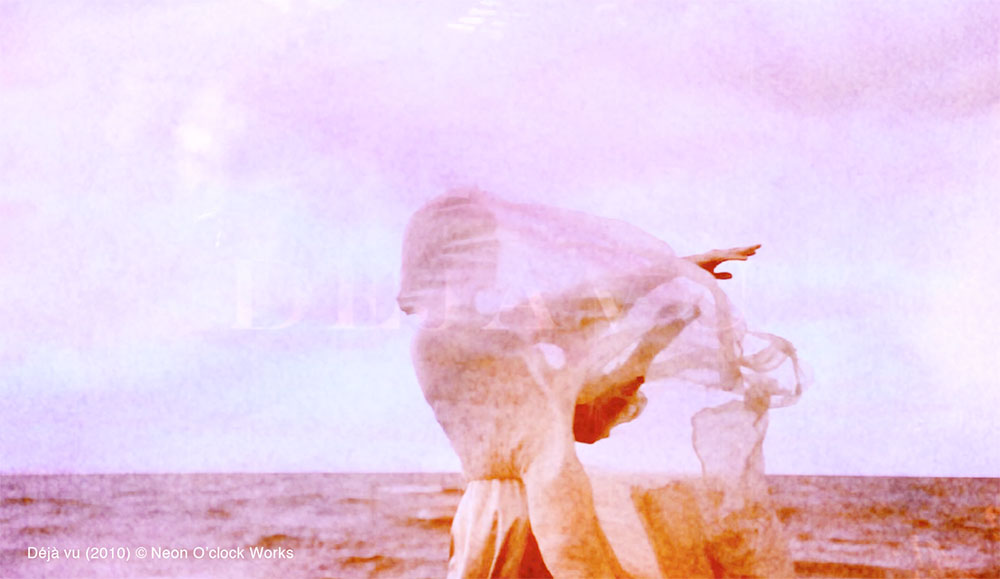 ---
Thank you so much for those who came to THE STUDY OF NEW HEAD DESIGN
2 Exhibitions in Tokyo
celebrating the book launch of HEAD PROP by Tomihiro Kono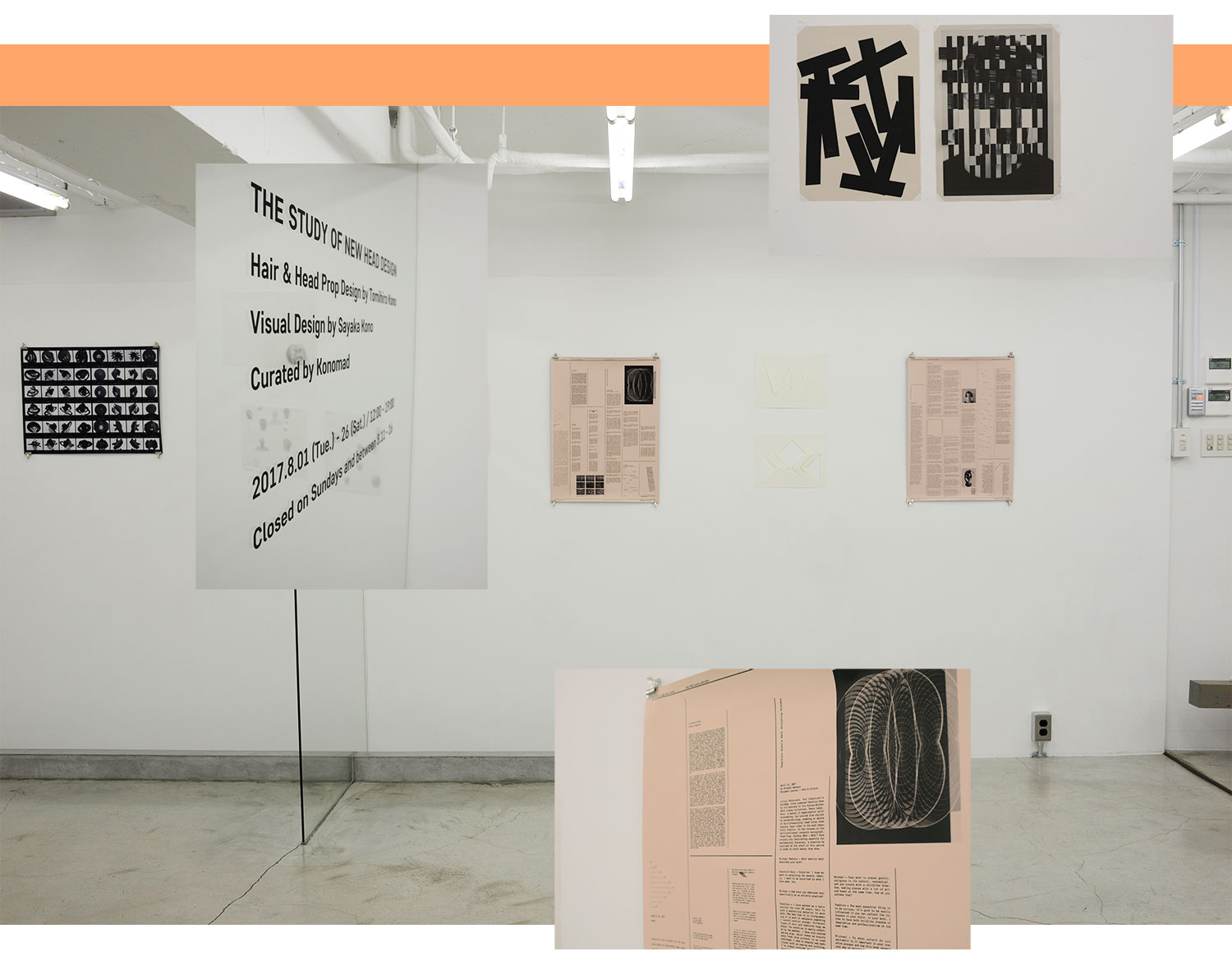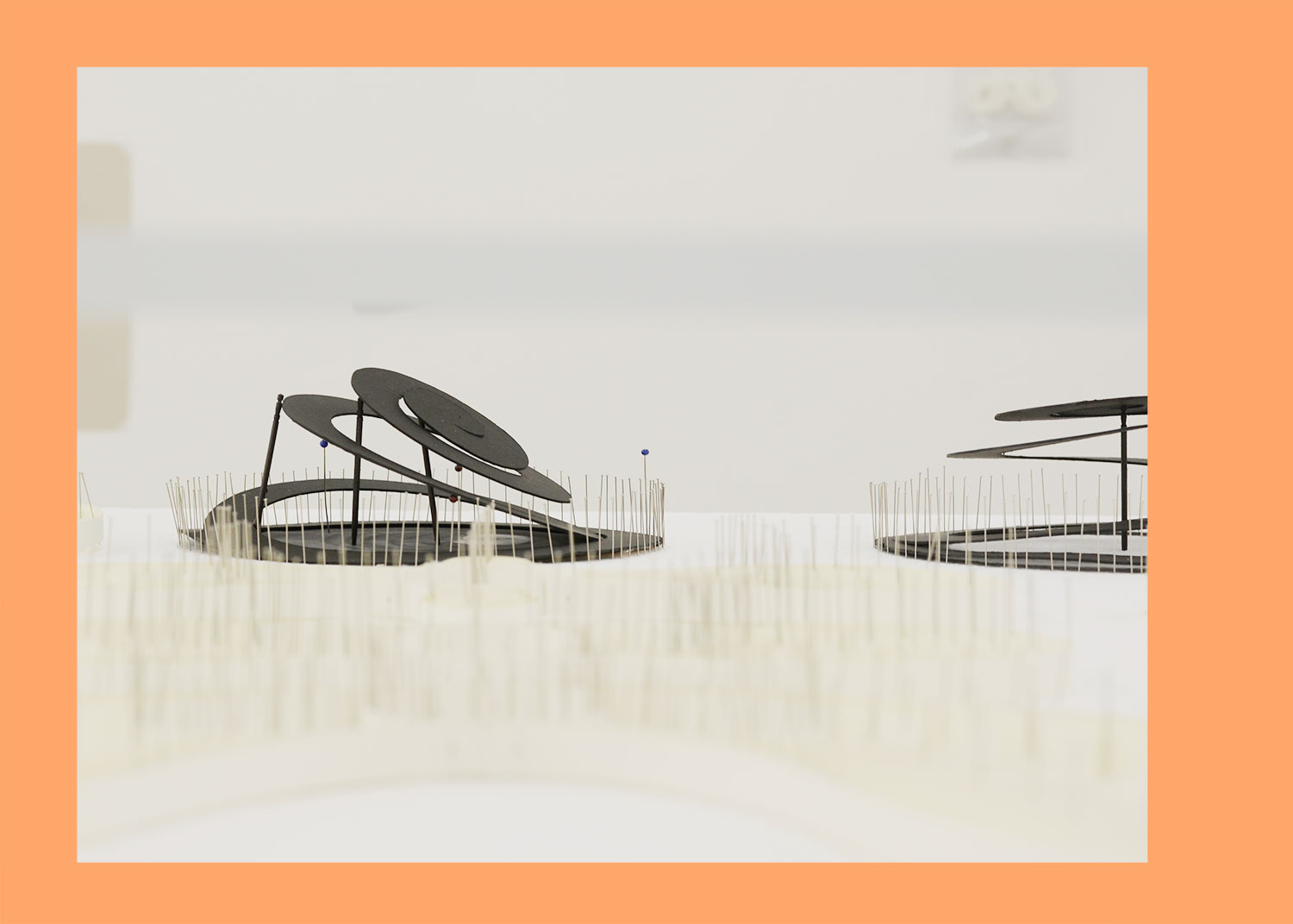 HEAD PROP by Tomihiro Kono is a documentation of distinctive head prop work produced by Hair and Head Prop Artist, Tomihiro Kono from 2013-2016. HEAD PROP gives a clear indication of the insight and path Tomihiro has followed in his innovative journey for new head designs through his uncompromising approach to his work. Having developed a highly successful international career as a session hair stylist Tomihiro Kono ventures into new territory, not only attempting to produce visually striking head designs, but designs that focus on functionality in the beauty of form.
---
Interview by OYSTER MAGAZINE

Tomihiro Kono might be a headpiece designer, but he's not definitively in the business of accessorising. Rather, Junya Watanabe's nine-time runway collaborator is intent on using his sculptural coiffures to build fully-formed characters — characters that are "thorough".
Many of Kono's head props are conceived at the juncture of fantasy (leisurely) and mathematics (laborious), revealing both blue-sky and meticulous processes. A cross-section of his CV reveals disparate possibilities: pierced leather in archetypal bondage style; Elizabethan era frivolity; the droll surrealism of René Magritte; and the follicular decisions of English new-wave band, A Flock of Seagulls.
Kono doesn't dance near any preoccupation with the sparse and minimal. The Japanese artist offers a counterpoint that isn't underpinned by the culture of aspiration — the stuff of beauty bloggers and Instagram tutorials. He's interested in the spectacle — which on the runway is most often relegated to the body and the garments — and a sweeping cohesion that corporate marketers might tout as the 360-degree brand experience. Jargon notwithstanding, Kono says, "Hair design takes such an important role in making complete characters and to give a certain impression to the viewers. Building a thorough character is something I'm so into, especially when I work with brands with strong concepts and aesthetics.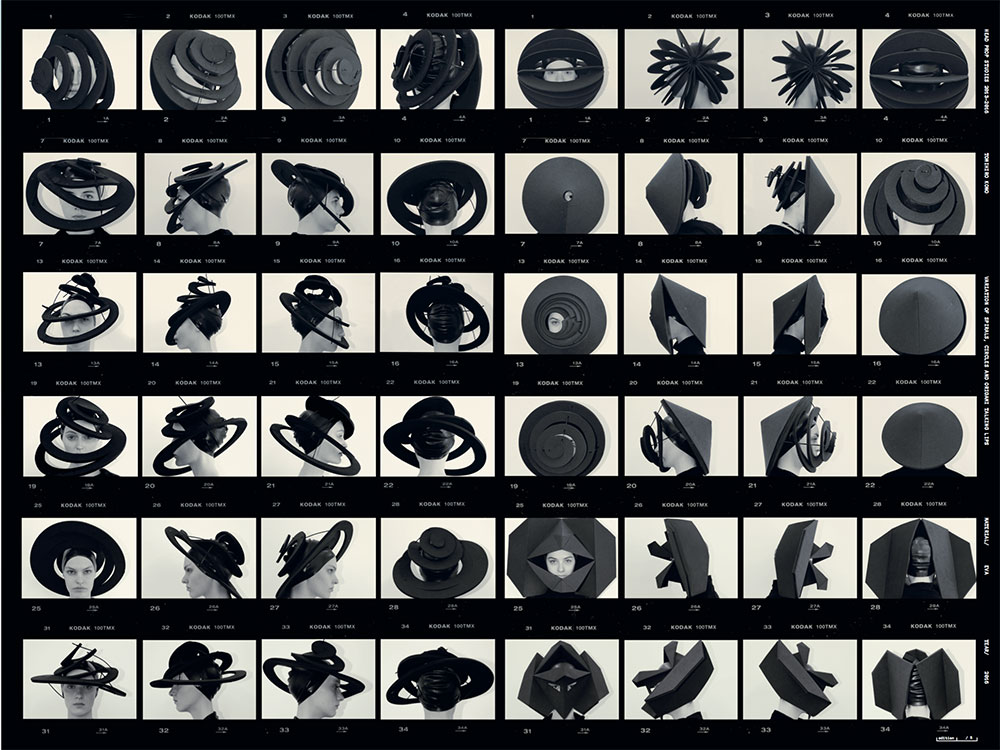 Welcome to the stage, Junya Watanabe: a man deeply entrusted to the realm of theatrics. When Kono engineered head props for Watanabe's Fall/Winter 2015 presentation, their debut collaboration, I'm certain spectators hypothesised about Watanabe's foray into headwear — so fluid was the affair. Kono's work up top serves conceptually rather than clinging passively on, making him relatively peerless in his practice.
"I was free to propose whatever I liked and [Watanabe] either chose the best of my proposals or we discussed and evolved [the ideas] as we went," he says of their work together. To round out Watanabe's offerings — a feast of excruciatingly laboured pleats and folds, and serrated reptilian silhouettes — Kono seemed to reference semi-stretched accordions and the preposterous guard hats of Buckingham Palace. At times the headpieces resembled shark fins: charred, fanned out in perfect ovals that jutted very far into the wearer's peripheries. Elsewhere, it was a spherical structure: very large and manifold, best visualised as an oversized origami rose fringing the circumference of the wearer's face and almost, but not quite, obscuring her view. For his final trick, Kono diluted the conceptual quality, dressing heads in permutations of a short inky asymmetrical wig.
Onlookers might wonder — distressed or incredulous — about the materials involved in Kono's head props, extending warm regards and well wishes to the necks of his models. Surely the more elaborate ones are not easy to hold up?! To sidestep injury and other site-specific concerns, he confirms extensive planning phases: "I had to consider long, strong, bendable materials to create the beautiful layers of arcs. They also needed to be light to stay on the head and thin so that they could be bound at both ends with metal screws." For the frenetic toggling between looks — on-off-in-out-over-under-through —add "easily attachable and detachable" to the checklist of non-negotiables. The numbers involved in such precise preparations, however, are the sort of punctilious calculations that are irksome for a person with limited fluency in geometry— "I am not so good at math," he admits.
The craft of head prop design is very different to the craft of, say, orange farming (you guessed it! Or you didn't?!) — a fate that was very nearly sealed for Kono. But instead of inheriting his father's business, he picked salon hairdressing "because I thought it was a cool job" he explains simply. He moved increasingly into synthetics, quickly accumulating a plump resumé of work that was bound up in a self-published book earlier this year: Head Prop 2013-2016.
It could have easily been just a glossy coffee table book — there are enough alluring images. Rather, it's a (still beautiful, still glossy) record-keeping object, documenting the swings and roundabouts of Kono's highly procedural career. It's a blueprint-cum-journal featuring nearly every creation he has fashioned during that period. It's like climbing into his middle mind: trace the tracks of clear bubble helmets enclosing cartoon-like 2D wigs (paper, plastic), black swathes punctured with gaping holes, falling about heads and bodies (ethylene and vinyl acetate), and buoyant structures in coalescent primary colours (papier-mâché). It's big futurism with one eye on the past.
The swirling of old and new feels very true to the land Kono hails from. The merciless innovation of Harajuku, for example, versus the tiny village of Ehime in Japan's south, where Kono grew up. "[There are] mythical legends that I got so much influence from as a kid. We have rituals to pray for the Sun Goddess (Amaterasu Oomikami), wishing for big catches for fishermen and good harvest for farmers," he explains. "It's a big event, a unique tradition of my tiny hometown. I had to dance all day long to pray when I was six."
Exhausting but impressive, diligent but childlike: the same as his fantastical head props.